Inaugurating Canada's largest vertical screen
Coca-Cola's #MakeSomeoneHappy campaign launches on Cieslok Media's newest digital addition to Yonge-Dundas Square.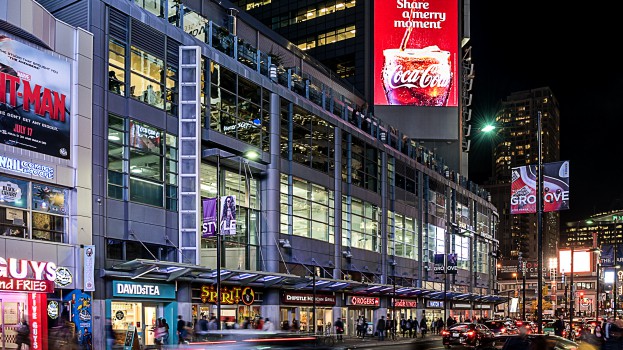 If you want to #MakeSomeoneHappy, pop open a can of Coke and share the contents. That is the message of Coca-Cola's latest holiday campaign, which is inaugurating the latest full-motion digital face on the busiest footfall space in Toronto, Yonge-Dundas Square.
The vertical board, which is 63 feet high and 25 feet wide, was a static backlit board in its previous incarnation and is now the largest vertical digital video board in Canada, according to Cieslok Media. The company has breathed new life into the out-of-home property with an LED billboard that guarantees plenty more eyes on the beverage company's holiday, #MakeSomeoneHappy campaign.
The Coca-Cola campaign, which includes 12 10-second spots, takes over all 62,000 daily impressions on the board and also includes messaging on other Cieslok digital boards facing the square.
"There is no other outdoor location of this kind across the country, and it is a perfect complement to Coca-Cola's domination facing the square," according to Michelle Bertumen, director of national sales at Cieslok Media's outdoor division.
Yonge-Dundas Square is one of the most-sought after advertising real estate spots in the country.