Ninja Turtles play with branded content
How Nickelodeon and Walmart are using an episodic online approach to promote the heroes in a half shell.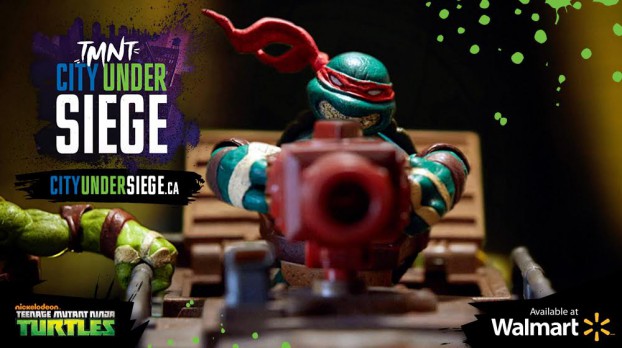 If you've ever wanted to be immersed in the world of the Teenage Mutant Ninja Turtles, now might be your chance.
To promote season four of the animated TV series, which began airing on YTV Oct. 31, and the latest line of Ninja Turtles toys, Nickelodeon Canada and Isobar Canada have teamed up for a branded content play called "City Under Siege."
Working with production studio Spot Cinema, Isobar used the actual toy figures to create battle scenes for a four-part series, being rolled out on CityUnderSiege.ca through the holiday season. Spanning the sewers, city streets, rooftops and even outer space, the idea was essentially to capture how kids imagine their toys coming to life when they play (think slow motion, "mini-Michael Bay" action sequences), says Steve Di Lorenzo, ECD at Isobar Canada.
The episodes are also interactive, with hidden "Easter egg" characters that can lead to prize pack wins, meant to encourage users to watch the videos more than once. Additionally, users can pause the episode by clicking on hotspots to learn more about each character, including their bios and weapons, as well as seeing additional merchandise, such as toy trucks. Clickable icons also lead users to the Walmart Canada website where they can purchase merchandise, including the toys.
"One of the challenges is creating engaging content and content that kids are excited to watch and be a part of," Di Lorenzo says. "I think interactivity is very important, especially for this target and knowing all the screens that they're on."
He adds that in testing with various age groups, the clickable hotspots actually proved really popular, with kids wanting to check out every single one to find out more about characters and delve deeper in to the Ninja Turtles' universe.
"It was very important for us to have short-form episodic content [and] to have a cliffhanger at the end of every episode," says Tanya Visano, senior director, Canada consumer products and and TV/film marketing at Viacom, Nickelodeon's parent company. "It's important for us to extend the relationship with the audience off air and incorporate products in a way that feels natural through storytelling."
Overall, 31 of the more than 100 toy characters available through the franchise are part of the series. Though the show and product line are aimed at boys between six and 11, the series also has an appeal for legacy fans, she says (the franchise has been around since 1984).
Using only music and sound effects (rather than dialogue), also allows the content to be internationally scalable, she says.
Last year, Nickelodeon worked with Toronto's One Method on "Toys with Talent," an online parody of America's Got Talent using characters from across its franchises, including the Ninja Turtles, Bubble Guppies and Dora the Explorer.
This time around, the approach was much more focused on the Ninja Turtles property and concentrated on dwell time and following consumers' path to purchase, Visano says. "We didn't do as much analytics the last time," she says, while with this project, Nickelodeon will be delving deeper into analyzing things like which devices consumers are using.
Nickelodeon will be driving traffic to "City Under Siege" through YouTube pre-roll, paid support on Facebook and Twitter. Isobar also handed the media buy.