Riding the video wave
AOL's 2015 video Industry report shows that buyers are increasingly shifting their TV spend to digital, with 64% saying they will up their mobile budgets for 2016.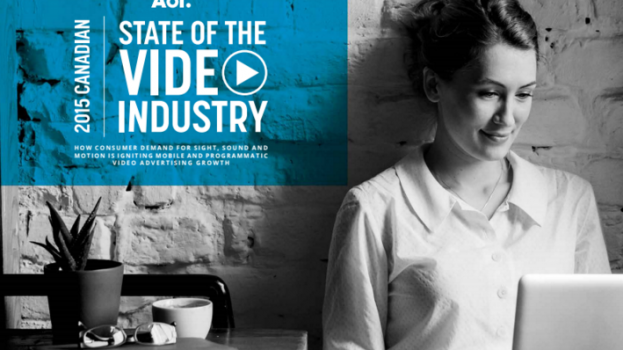 The state of the video industry appears robust, according to the first-ever AOL-published report that looks at the Canadian market.
With marketing ad budgets shifting to digital and mobile experiencing unprecedented growth, marketers are increasingly turning to programmatic channels to plan and buy media. Additionally, as marketers shift their focus onto video channels, the report shows that 44% of Canadians buyers – agencies and marketers – are using branded video content.
The State of the Video Industry report is in its sixth year of publication in the U.S. but this is its inaugural issue in Canada. To understand trends and shifts in ad spend, AOL worked with research firm Advertiser Perceptions to collect qualitative and quantitative online feedback from 139 brands and agencies across the country during the third quarter of 2015. The study covered 25 buy-side and sell-side questions.
The overall outlook for the industry is strong. With digital ad spend estimated at $3.95 billion for 2015 (according to eMarketer) and expected to grow to $4.34 billion in 2016, digital ad spend will make up more than 35% of the total media ad spend. According to an eMarketer video ad spend report, $346 million of that amount will go to video advertising. The shift is also partially attributed to AOL's findings in a previous report (Finding the Needle in the Haystack: A Programmatic TV Primer), which notes that TV ad costs have gone up 29% since 2012.
Alyson Gausby, consumer insight lead at AOL Canada, says the goal of the report was to understand what the Canadian market looks like for buyers from the agency and brand side. "We know that our industry is rapidly changing and in order to be successful its really important to have a pulse on the market and to understand what changes we're seeing and why we're seeing them."
The biggest challenge identified as a roadblock to mobile video buying was cross-device targeting issues, with 45% of respondents calling it out as a stumbling block to their buy plans. Another significant obstacle is the capability to optimize creative for mobile. To a lesser degree (35%) in-demo targeting and attribution and measurement (33%) and scale (24%) were also identified. The report identifies the use of universal IDs to help marketers optimize their cross-device targeting in time.
The disruption in the industry has really been driven by users, says Marla Natoli, director of video and mobile at AOL. "Its driven by increased video consumption on the devices they prefer and its driven by devices that are accessible to them not necessarily what is the best viewing experience. And as users have decided that mobile is their preferred device for consumption of content, we have seen a really solid increase in video, and brands are really getting into that space."
According to the AOL  report, almost all (96%) of those surveyed reported that the shift in their ad budgets towards digital is moving from TV. Moreover, digital video is expected to overtake display by the close of 2016.
The report highlights the numerous channels through which digital video is being bought, with agencies buying more through exchanges and more than 50% of marketers buying through ad networks. Overall, 56% of buys take place directly with a publisher (63% of brands use this purchase channel). Also, 49% of agencies and 29% of brands said they bought from an exchange, compared with buys from an ad network (46% agencies; 54% brands).
Length of video content also impacted video spend with short-form dominating the market with 73% of buyers, compared with 41% of long-form content.
Mobile is where the near future of ad spend is headed, according to the report. Some 64% of those surveyed said they had plans to increase their mobile ad budgets for the next year. In 2015 itself digital ad budget across desktop, OTT and mobile increased by 8 to 11%.
Changes in marketing budgets are attributed to changes in consumer behaviour according to consumer-based research. However the report also points out the challenges for ad spend to grow in this space.
In the hunt for more efficiency in buying mobile video, a greater investment is expected in programmatic buying with an average increase of 11% in programmatic spend expected in 2016. That shift towards programmatic is likely to see brands developing more in-house programmatic capabilities. Over 80% of brands surveyed had either already brought their programmatic video buying in-house or planned to do so within the next year.
Private marketplaces are where a significant chunk of the video buy is taking place, with 42% of each dollar invested in digital programmatic going through their gated communities. Over 70% of buyers say they either already use private marketplaces or plan to within the next year.
Programmatic buying for TV also increased, with 30% of buyers already investing in programmatic channels. However, that space is plagued with concerns around scale, safety and integration.
With the growth of mobile video, the appetite for branded videos is also on the rise, says Gausby. "Its something that brands always like the opportunity to do. This makes it a lot more accessible to them, it's a lower cost of entry and allows it to reach a much more targeted, niche market. We are definitely seeing an increase at AOL for that type of content."