Montreal Gazette adds new section
As part of the Postmedia transformation, the Quebec publication is the third one to see a National Post section in its daily print edition.
Readers of the Montreal Gazette will have an additional section rolled up with their morning delivery today. Postmedia has added a six-to-10 page National Post supplement to the daily publication and expanded a pilot program that was launched in September with its Edmonton daily.
The section, which features news, as well as commentary and analysis on national and international issues, features the work of National Post writers and columnists, including Christie Blatchford and Andrew Coyne.
The addition to the print edition of the Montreal Gazette is part of Postmedia's transformation of all its media assets through a rebranding exercise that has, in recent months, seen both the Edmonton Journal and the Windsor Star emerge with a new face. Those publications also include a new NP supplement; NP in the Edmonton Journal, for example, is an eight-to-12 page product that contains similar NP content.
Gord Fisher, president of National Post, tells MiC that the introduction of the National Post in the Montreal paper strengthens the product's brand value and gives loyal print subscribers more. It also allows the Montreal Gazette's editorial team to focus on the production of local content on sports, news and entertainment.

The idea for the print expansion came from observing the U.S.-based Gannett Company distribute a condensed edition of USA Today within its other publications spread across the country. The pilot program started with two publications and eventually expanded to include more than 30 Gannett publications.
"We have had the luxury of seeing them roll that out," says Fisher. [National Post] enhances the local newspaper significantly. Right now in the newspaper industry in the world this kind of initiative is pretty rare – usually companies are cutting back."
The initiative, says Fisher, is part of a long-term strategy tied to the belief that "there is a place for newspapers of quality and what we have to do to keep our loyal readers engaged is take advantage of these kinds of opportunities."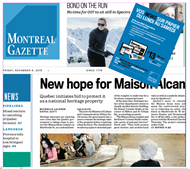 A marketing campaign to announce the new product has been launched this morning (see featured image) with the tagline: "Vos News Sur Papier du Lundi au Samedi" or "Y0ur News in Print Monday to Saturday." As part of the campaign riders at select metro transit locations in Montreal will receive a copy of the Montreal Gazette with a Post-It note on it describing the change. The campaign also includes rack cards at select retailers and targeted and addressed direct mail offerings. In addition, there is paid social on Facebook and LinkedIn.
Postmedia's transformation process saw its free Toronto daily also reemerge as 24 Hours Daily last week. The media company, which has been struggling with losses to its legacy business with falling ad revenue across its print brands, has also set up a content marketing unit to drive new business outside its core medium.
The National Post program is no longer in its pilot phase with three publications now sporting NP sections. The product will be included in the Montreal Gazette six days a week.