Jones Media gets in the content game
The company has launched a new website to showcase its online influencers and execute brand-sponsored content programs.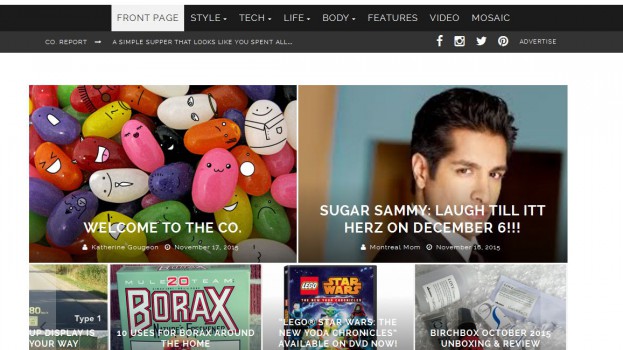 Jones Media needed a site to showcase its network of influencers and brand-sponsored programs, so it built one of its own.
Enter The Co, a new site populated primarily with written, photo and video content from Jones Media's Voice network of online influencers. Top creators within the network of 5,000 include Casiestewart.com, Tovogueorbust.com, Gtonge1.com and Vankayak.com.
Offering content that fits the bill of the site's tagline "what's next now," The Co is targeting men and women aged 18 to 54 with a household income of $75,000 and over.
Sarah Bobas, director of content and product science at Jones Media, says influencers will add between 35 and 60 new pieces of content to the site a day, with one to five additional pieces coming from The Co's freelance editorial team.
Content on the site will be sorted into verticals including style, tech, life and body. Series on the site will include Tell Me Something I Don't Know, a video series delivering hits of culture, The Co-It-All, an expert advice column, Shut Up and Sweat, a five-minute celebrity trainer-led workout and global travel series Take Me. 
Jones Media will be promoting the launch of The Co with paid and organic social media, as well as a push from The Co's network of influencers.
Launching in English now, a French version of the site featuring influencers from Quebec will go live in 2016. Cathy Fernandes, partner at Jones Media, says the second phase of The Co will also include an intuitive interface that will show readers content similar to pieces they have viewed in the past. More details on the technology driving that launch will be available next year.
In addition to giving advertising partners a new site to build sponsored programs, The Co also aims to drive more traffic and followers to Jones Media's influencers.
The Co has also signed with the Academy of Canadian Cinema and Television  (ACCT) to be the presenting sponsor of the organization's 2016 Academy Social event on March 10 during Canadian Screen Week. That partnership will see The Co host content around the event, including nominees of the 2016 Canadian Screen Awards and promote information about the event.

Fernandes is bullish on goals for the site, saying she wants The Co to be the top in its category and the destination for the most influential voices in Canada. "We want to be number one."