Postmedia's prairie pubs parade new faces
The publisher's Saskatoon and Regina publications are the latest brands to emerge from the publishers' rebranding mission.
The domino effect of a rebranding campaign across the Postmedia brands has now reached the prairies. Two of the publisher's Saskatchewan publications have undergone face-lifts and emerged with new identities. The Saskatoon Star Pheonix and the Regina Leader-Post have both been redesigned.
With an aim to re-imagine its legacy media products, Postmedia has worked on bringing its publications up to date with fresher print and web designs as well as products that can be accessed easily via smartphone apps. Both the Saskatoon Star Pheonix and the Regina Leader-Post both now have apps that are delivering short-form, easily-shareable local content on iOS and Android devices.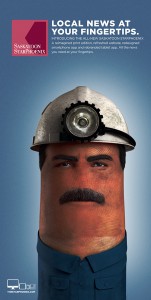 Following the lead by other Postmedia rebranding campaigns, a three-month publicity effort is underway to familiarize local readers through an "At your fingertips" campaign focus (see featured image and image at right) to promote the brands' new regularly updated and accessible content.
The rebranding also signals Postmedia's effort at allowing its regional brands to bring greater insight and focus on local news. The publication is leveraging its National Post brand to give print readers a curated National Post edition that will feature national and international news, analysis and commentary from that publication and bring content from writers like Andrew Coyne, Robert Fulford and Christie Blatchford to its readers. That product is being distributed to readers across the Postmedia network with the Montreal Gazette, the Edmonton Journal and the Windsor Star print readers also seeing a NP supplement in their a copy.
Platinum sponsors for the relaunches are Captial Automotive Group for the Regina pub and Conexus Credit Union for the Saskatoon brand. On launch day – Tuesday, Nov. 17 – the sponsors wrapped their brand around the print edition and will take over the publications' websites tomorrow. The sponsorship will continue for the next four weeks.
Stephen Ripley, editor of the Regina Leader-Post, which has an editorial staff of 33, says that readers have been calling in to celebrate the new design. The focus of that design, says Ripley, who joined the publication in September this year, is to drive differentiated content to the publication's smartphone app.

"It's about changing our approach to the way we deliver content to readers so we're not just throwing all the content into one bucket and putting it all on every platform. We are now we are differentiating between platforms. Smartphones are growing the most so we are developing unique content for the smartphone app."
The redesign has not resulted in any cost-cutting or staffing changes. In order to get the company's editorial team on board with the changes, staff underwent a two-week training, followed by a week-long dry run and a "dress rehearsal" just ahead of the publication's rebirth this morning.