What does Canada's video market look like?
A Videology report shows how the sector is shaping up at the end of Q3 across the country.
With consumers spending a significant chunk of their daily lives on digital devices, advertising spend in Canada is also adapting to follow that trend. According to a new report on the video market from Videology, device-agnosticism is the mantra of the current times, with a 12% increase over the previous quarter in campaigns employing more than a single go-t0-market media strategy.
The report, which examines developments in the video market in Q3, also sees a 170% year-over-year increase in campaigns employing a mobile component. However, only 3% of campaigns had a mobile-only approach.  
The "Canada Video Market At-a-Glance Q3 2015″ report is based on data pulled from the company's platform and analyzed by an in-house team of experts.
Along with the increase in adopting a multiple-device strategy, marketers also increased their use of audience verification tools. That focus is up 28% since January 2015.
The auto and consumer packaged goods industries dominated the video ad market, comprising 25% and 24% of the total pie, respectively. The retail sector saw an increase in video focus of 15%, making up 9% of the total video market market, with pharma following closely behind. Because of it being an election year, political ads also contributed to the growth of the video market, making up 7% of the total and growing 85 times over  the same period in 2014.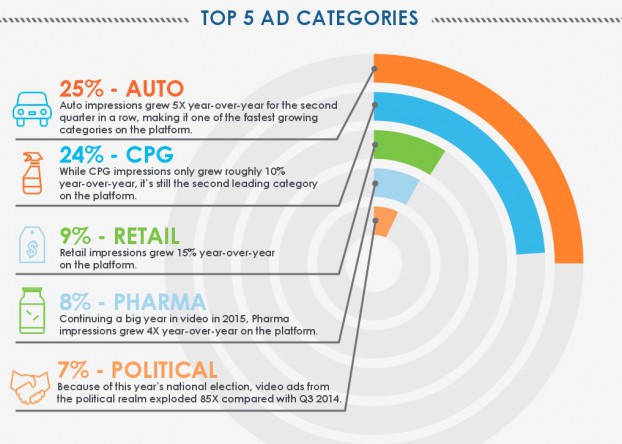 The report also shows an increase in interest in employing targeting tools to reach specific demos. Geographical and behavioural targeting increased by 52% and 29% respectively, quarter over quarter.
Also, 98% of the programmatic buy type was guaranteed CPMs.
Finally, in this quarter, Videology identified more of a balance between video ad duration of 15 and 30 seconds with the trend showing movement towards longer videos. In Q2 72% of the video ad market was focused on 15-second videos, with the rest being 30 seconds long. In Q4, by comparison, 57% of video ads were 15 seconds long.
 Image courtesy of Shutterstock