Transat's Twitter travel auction
The tour company will host a SOS-Villages benefit through a bidding war on Twitter for trips down south and to Europe.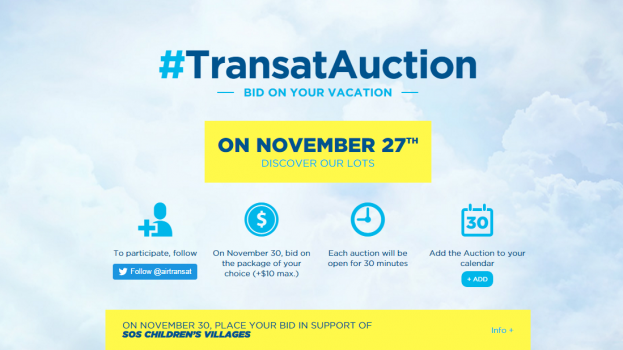 Transat is reaching out to travellers on the elusive hunt for a good deal by hosting a "Transat Auction" on Twitter on Cyber Monday.
The auction is the third of its kind for the tour company and airline charter, which has been working to build awareness of its brand among millennial travellers. The auction lot includes 20 items that will take the highest bidders to sunny locations in the south or destinations on its Europe route. Participants tweet their bids to the @AirTransat account.
The Cyber Monday auction has a bonus feature: proceeds from the auction will be donated in their entirety to SOS Villages, a global charity with 80,000 homes for children who are either abandoned or orphaned.
The auction was an innovative way to raise awareness about the brand while also raising funds for a good cause, explains Debbie Cabana, Transat's marketing, social media and public relations director. The company is deliberately targeting the millennial audience on Twitter and has found that the demo is keen to support programs with a social cause.
"From Transat's marketing objective it helps us raise awareness of our brand to a web-savvy audience and more specifically the depth of our offering," says Cabana, adding that people often don't know that Air Transat flies to Europe.
Promotions for the auction are taking place through Transat's social media pages, on posts penned by influencers who participated in its Travel Basecamp web series, and through a microsite that has been set up specifically for the auction.
Transat inaugurated its auction strategy last Cyber Monday and followed up with a second auction in April this year. The first auction saw 47,000 bids, while the second auction, which was focused on European destinations, saw 29,000 bids. The two auctions collectively raised $68,000 that went partly towards supporting relief efforts following the Nepal earthquake and also towards other SOS initiatives.