On-demand viewing still nascent but rapidly growing: report
A Numeris study using single-source PPM data shows how Canadians turn to live and OD viewing for dramas, sitcoms and reality TV.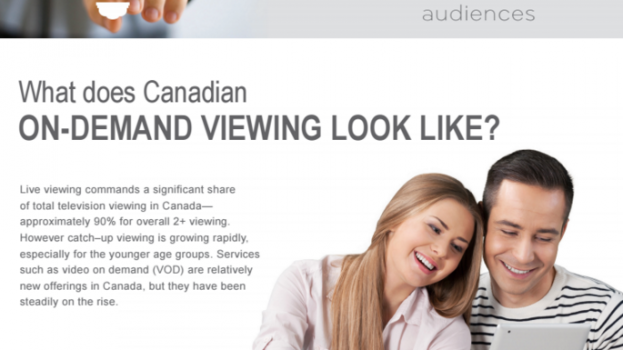 On-demand viewing is a sociable activity, according to a new report, which shows that 75% of people prefer to watch on-demand television when in the company of others. But the numbers from measurement body Numeris also show that live viewing still dominates 90% of overall 2+ viewing in Canada.
The results are the fruit of a study that looks at data captured during a five-month period between January and May 2015 measuring on-demand viewing for the 2+ audience. Measurement for that study, which was pulled from Numeris's PPM panel that provides TV and radio currency data, was based on 415 English-language episodes (sitcom, drama and reality) for video-on-demand available through set-top box services or broadcaster websites.
Natasha Arzumanian, manager, methodological research at Numeris, says that the single-source data centre is ground-breaking because it allows Numeris and its clients to see the linear (broadcast) and on-demand (OD) viewing from the same place. "We're completing the viewing puzzle by being able to follow the media consumption behaviour throughout the day, from the same panel. We can look at live, playback and now OD viewing."
Numeris's panel includes 5,000 households and 11,000 panelists.
While live TV dominates 2+ viewing at the moment at 90%, Numeris says catch-up viewing is rapidly growing. However, quantifying that rapid growth remains challenging because OD viewing is not part of the currency pie, which is based on live or playback viewing, she says."Often, the promotional or ad content differs in the OD videos, from that of broadcast program, so the numbers can't be combined. But what we do see is that OD viewing is about 5-10% of the total linear audience, depending on the genre."
The measurement body has, however, been keeping an eye on-demand viewing by running tests since early 2014 and Arzumanian confirms that on-demand viewing in Canada matches patterns of growth elsewhere.
With VOD being relatively new to the Canadian market, the study shows that working women in the 25-to-49 demo with young children at home and medium-to-heavy TV-watching habits make up the biggest chunk of that audience. Those viewers also tend to live in homes with a PVR, more than one television set and high-speed internet access.
The most-watched of the 415 episodes analyzed for the study had about 300,000 people tuning in during an average minute, with most episodes being entirely watched. Also, between 25% and 40% of those watching the chosen episodes had already seen them on live TV.
One of the other learnings from the report was that most viewers used the on-demand vehicle to catch up on missed episodes. It seems people also have specific days on which they watch on-demand by genre: sitcoms on Saturday, dramas on Wednesday and reality shows on Fridays.
In October Numeris began sending out supplementary monthly reports measuring on-demand viewing using the same meter panel used to pull audience data to the industry.