Debuting a Canadian data map
Aiming to highlight its proprietary data, Eyereturn Marketing has launched an interactive tool to reflect Canadian likes and dislikes by category.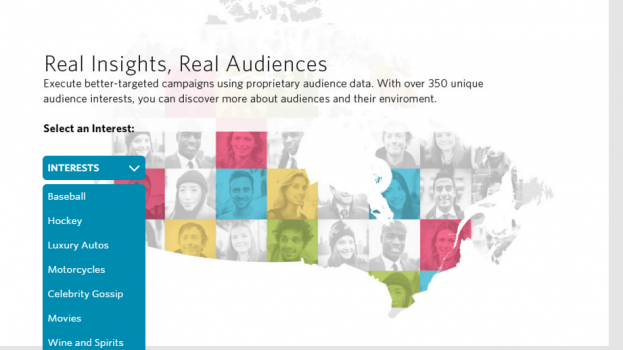 Are you a data geek and want access to useful data at the touch of a button? The folks at a Canadian buy-side platform call that sort of thing "automagic," and with the launch of their latest product they believe they can give you that sensation.
Eyereturn Marketing has launched a publicly accessible interactive map tool to give the brands a geographical footprint of its proprietary audience data.
The buy-side platform's "Audience Interest Map" gives advertisers a view of Canadian behaviour and preferences and can be seen and adapted online. Intel for that tool comes from the company's first-party data gleaned from multiple touch points across a wide range of websites (it serves up four billion ads a month). With that data Hill says advertisers will able to launch more-targeted campaigns and build their ROIs.
The online presentation is a nod to the importance and relevance to big data insights and also an effort to promote the ad tech platform's integrated data management platform (DMP), says Renee Hill, CEO, Eyereturn Marketing. The move at the end of 2015 also debuts the company's strategy to focus on big data in 2016.
Access to the map allows advertisers to identify which markets in Canada would respond most positively to their product based on audience interest for that category.
"Most data providers are American and they think duplicating insights will give accurate results," says Hill. "No one knows how much information we have on behavioural insights."
Eyereturn's proprietary ad-tech and buying platform is Canadian-built and Canada-focused.
Hills says that third party data often isn't as accurate. "What I was noticing was we have a lot of data – interest-based data. We notice, for example, that auto-intenders were really the only ones interacting with an auto ad and having the conversions. But when we run campaigns with third-party data, for the cost of that data, we were not seeing the same similarities between the targeting and the people who were reading it."
The data is built on information across various touch points and lets advertisers visualize Canadian behaviour by category. That includes Canadian preferences for sports like baseball hockey, as well as their music, dining and holidaying likes and dislikes.
The data map is the first of a series that the company plans to have out. Future iterations will focus on secondary markets for which data is less accessible, says Hill. A Toronto-by-neighbourhood interactive map is also on the cards.

The interactive map is accessible to all here.