Grey Cup posts 2015 growth
How Shaw's on-site activations fared in its first year as title sponsor, as overall ratings jumped.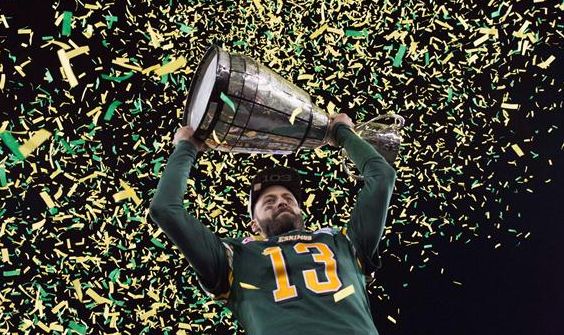 This year's CFL Grey Cup posted growth over last year, with an average audience of 4.3 million viewers tuning into the broadcast on TSN and RDS live from Winnipeg.
Broken down, an average audience of just over 4 million watched the game on TSN and 230,300 watched on RDS. Those numbers are up 6% from 2014, when an average audience of 4.1 million watched the game.
Overall, 9.7 million unique viewers watched at least part of the game, which saw the Edmonton Eskimos beat the Ottawa Redblacks. Audiences peaked at 5.5 million viewers late in the game when Edmonton scored a touchdown to take the lead in the fourth quarter.
This year's Grey Cup was the first to be sponsored by Shaw Communications, which announced its title investment in the game last spring.
Shaw was live on site in Winnipeg over the Grey Cup weekend, with augmented reality and virtual reality activations aimed at getting fans closer to the action.
"Team Shaw: Augmented Reality" allowed fans to have their photos taken alongside a virtual CFL player. The technology created the illusion of life size holograms that passersby could see and interact with, and then share the photos and videos with #RoadtotheGreyCup.
The company's "Virtual Reality: Inside the Venue" activation allowed fans to experience a behind-the-scenes tour of the stadium ahead of the Grey Cup, even running out onto the field from the tunnel.
Overall 6,500 people visited and engaged with Shaw's Grey Cup activations. Chethan Lakshman, VP external affairs, Shaw Communications, says the company is already planning for next year's game, which will be hosted in Toronto.
"We wanted to do more than make it about Shaw, we wanted it to be about the game," he says of this year's activations. " We wanted people to feel like they were brought into the game by Shaw."

The CFL will go into the 2016 season with a new tagline, "What We're Made Of," aimed at attracting a new generation of fans. CFL commissioner Jeffrey Orridge introduced the tagline ahead of last week's Grey Cup game, noting that the need to bring new fans into the fold comes during a year that has seen game viewership dip 15% overall on TSN and RDS.
Featured image: Edmonton Eskimos quarterback Mike Reilly hoists the CFL's iconic trophy at the 103rd Grey Cup presented by Shaw