ICYMI: New chair at IAB Canada, Songza's last tune
In case you missed it: IAB Canada has named a new chair, Songza is folding into Google and Duncan Fulton won big at the CMAs.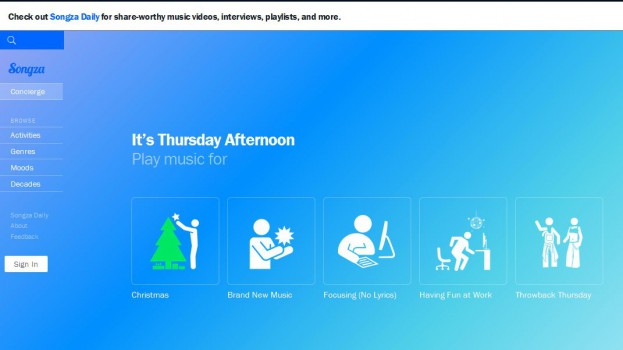 IAB Canada names new chair
The IAB Canada's board of directors has named its next chair, selecting Google's Eric Morris for the role.
Morris is the head of search and performance advertising at Google Canada, and has been on the IAB Canada board for the past five years.
He takes over as chair from Joe Strolz, who was recently promoted to GM of partner integration on Microsoft at AOL.
Duncan Fulton, TD, Leo Burnett win big at CMAs
The Canadian Marketing Association (CMA) has handed out the awards for its best of the year, with TD taking the top prize for its "#TDThanksYou" campaign. Leo Burnett and Diamond Integrated Marketing were awarded along with the bank.
Leo Burnett Toronto was the most-awarded agency of the night, taking home 10 golds for its work with TD, Procter & Gamble and the Ontario Women's Directorate.
Duncan Fulton, SVP of communications and corporate affairs for Canadian Tire and CMO for Mark's and FGL Sports was named Marketer of the Year at the event.

Songza to play last tune in January
Music streamer Songza will play its final songs in January as Google folds the company it acquired in the summer of 2014 into its Google Play Music.
In a statement from Songza on its website executives noted that they have worked over the past year and a half to bring the best part of its service onto Google Play Music. A free, ad-supported version of Google Play Music was introduced to users this summer, with inventory available through the Google Display Network.
Yahoo updates messenger
Messenger has a new look for Yahoo, as the company rolls out an updated version of the service across mobile, web and in Yahoo mail. The newer version better incorporates both Tumblr and Flickr, allowing users to share photos through an image drawer that scrolls horizontally so they can be viewed without closing the conversation. Trending gifs can now be searched through a special message box, with a gif button to add them to conversations.
Sender's remorse is also addressed, with Yahoo adding an unsend button. The apps are currently English-only, but a release says other languages will be added soon.