Show and tell: media measurement in flux
PHD's Rob Young charts out the changes taking place in the measurement space and how they allow us to measure consumer activity on media differently.
By: Rob Young
Media measurement is an odd thing. It's like a grey shadow estimate of consumer media reality. The consumers behave, the measurement shadow is captured and then we see what that shadow looks like days or weeks after the fact. We never see media reality in real time, only a delayed, often blurry, snapshot of reality.
And with constantly evolving media behavior, our media measurement institutions were struggling to produce the new insights our industry needed to keep up with the consumers we were trying to target.
The media business is coming off a long and pronounced commoditization spree. Super-hyped-up conjunctive TV buys and corporate media-spend volume discounts driven by global pitches (fueled by procurement departments) have taken a toll on media brands. But there is a new-found realization that strategically sound and media-brand-compatible communication planning increases awareness and sales response. Marketers and media share a growing aspiration to break down media audience "silos" and better understand an audience's relationship with media brands – so they can harness multiplatform audience duplication.
Programmatic, which is another word for online commoditization, has also done damage to the online site brand. Who needs to understand the specific unique nature and profile of a site user if online campaigns are auto-optimizing on cost-per-click performance? But again, we're seeing the tide begin to turn as media practitioners work closely with specific sites to enhance target audience engagement in new, creative and thought-leader-driven ways.
As a result, these bedrocks of data justice had to transform and do so quickly. Here's a list of measurement operations that reconfigured, revised, renamed, re-engineered and replaced old methodologies with new.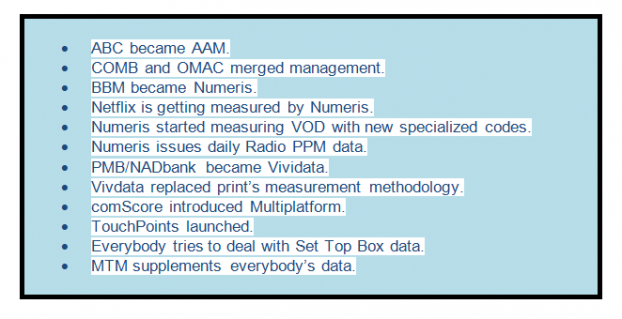 Media measurement is in flux and here are three examples, in chart form, that explain why.
Marketers now think of magazines and newspaper as optional print vehicles not category-competitive vehicles. As a result, media practitioners need to understand the relationship between print titles within both types. Additionally, we know consumers are reading magazine and newspaper titles in print and digital forms. Print measurement has therefore changed and rebranded under the name Vividata in order to provide the kind of information contained in the chart below; insights we could not have obtained even a year ago.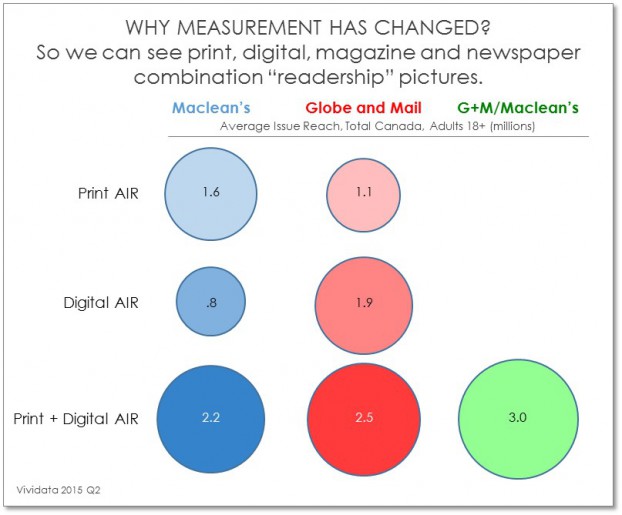 There have been big changes in consumers' broadcast behaviour. In ever growing numbers, consumers now view long form video content in various ways: live, in playback form, on set-top box VOD and streamed from broadcasters' websites. But until last month, media practitioners had no way of quantifying these viewing segments. This technological impact on program tuning needed to be measured.
Numeris supplemented its Portable People Meter (PPM) measurement system by having broadcasters inject specialized codes in their served, VOD programs. The magnitude of VOD tuning could only be guessed at a year ago and now we receive VOD audience data monthly.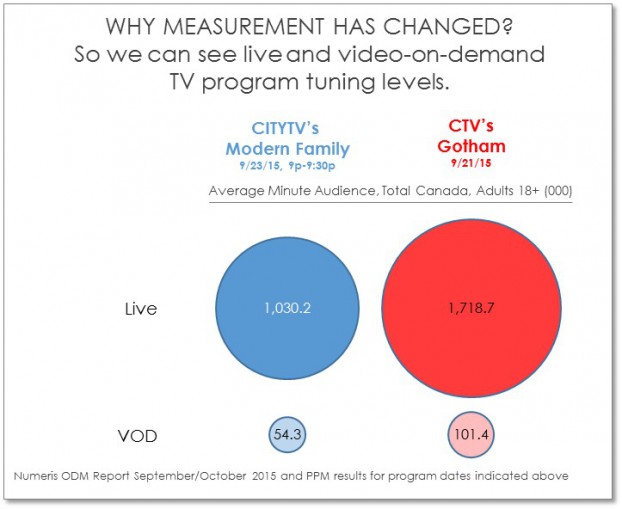 Marketers must adapt to their target group's ever-changing online behaviour and this means creating mobile-friendly websites. How can response be optimized otherwise? But what exactly is the percentage of those who access websites via mobile versus desktop? How big an opportunity is mobile-responsive site design?
A year ago we began to get some clarification thanks to comScore's introduction of Multiplatform system. This chart uses Multiplatform and October 2015 comScore data to quantify the number of unique visitors accessing Google search and Google Maps via desktop/laptop and/or mobile devices. The consumer is adopting new behaviour, the marketer needs insights, and so the media measurement industry is once again forced to provide new measurement approaches.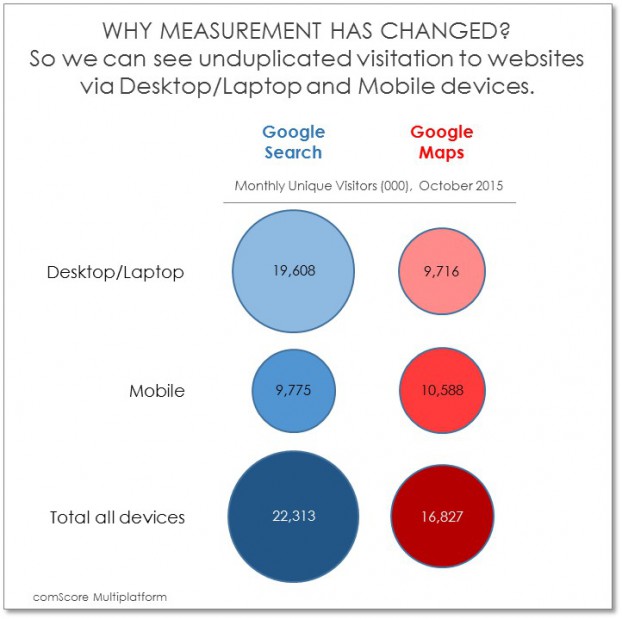 Over the last year or so all our media measurement institutions have changed so we can better understand each media brand and also understand the unique characteristics and interrelationships that exist between media brands.
The measurement bodies have changed so we can create these charts and charts like them; charts that allow our industry to shadow consumers as they zig and zag through the media landscape.
Rob Young is SVP, director of insights and analytics at PHD Canada.