Canada Drives looks to scale up with smart targeting
By investing some of its media spend on Yahoo's native ads marketplace, the Vancouver-based auto lender sees a 25% increase in conversions.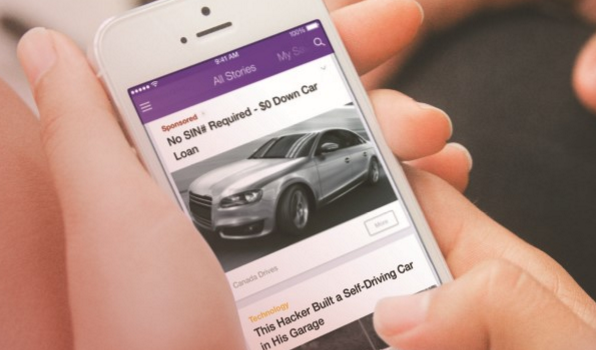 How big is the Canadian market of automotive buyers and how much bigger would it be if people had access to financing from non-traditional lending authorities? Vancouver-based Canada Drives is out to get the attention of those car buyers who want to tag a vehicle with their name and need more financial assistance than a bank will provide.
Reaching that potential customer is a case study in fine targeting and that's what the company sought to accomplish when it put about 5% of its over $1 million advertising budget (spread over 50 different ad networks) into Gemini, Yahoo's native ads platform, says Chris Reynolds, VP of digital marketing at Canada Drives.
The car loan business has been advertising on Yahoo all year but in October it began to use the more targeted features of Yahoo's Gemini platform to use interest targeting and reach across its web properties to show its static ad.
The campaign's objective, according to Reynolds, was to drive traffic to the Canada Drives website, get visitors to complete an application for funding online and match them with a car dealership close to them. (Canada Drives has relationships with dealerships located across the country). The company wanted to increase its ability to scale up digital advertising while reducing cost per acquisition (CPA).
"Our company was looking for scale so we wanted to try out a variety of different platforms," Reynolds explains.
The move worked for the car loan business, which tracked the impact on KPIs after running the campaign for one month and seeing a high volume of leads as a result of the campaign.
December, for instance, is usually a slow month – perhaps the slowest in the calendar year – but Reynolds says he has seen it transform into an unusually productive month since optimizing conversion through the platform. In addition to seeing more interest in their business, Reynolds says the process has resulted in less variance in its desired CPA. 
Campaign KPIs released by Yahoo show that a month after the campaign debuted, Canada Drives was able to see a 53.4% decrease in CPA, a two-times increase in CTR and 25% more conversions. Those figures compare results 30 days before using Yahoo's optimization tool and 30 days after it was employed.
Reynolds says that the ability to reach Canadians across the country on Yahoo's diversified site portfolio also helps as the company hopes to scale up its online advertising to expand its reach to drivers wanting their own vehicles in every corner of Canada.