Will Twitter's new ad unit get people talking?
Sport Chek and Samsung were the Canadian beta launch partners behind conversational ads, a new unit aimed at generating interaction.
Twitter is having a busy start to the new year. The social media company is toying with the prospect of increasing its per-Tweet character count from 140, and yesterday it introduced a new ad unit aimed at generating conversations around brands and increasing earned media.
The new ad unit, called conversational ads, combines a video or image with call to action buttons and customizeable hashtags. Each ad features a video or image with a call to action button. When the button (or one of a series of buttons), is tapped, a Tweet composer opens with a pre-made message accompanied by the creative and hashtag buttons. The Twitter user can then personalize the tweet and share it with their followers.
"Video has been a really big push for us, and a lot of marketers use it very successfully," says Jamie Michaels, head of brand strategy, Twitter Canada. "We have done a lot of things in the past where we have added elements that ask for participation or calls to action. And we felt with the explosion of interest around video there was an opportunity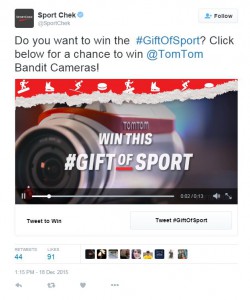 to overlay it with buttons that allow users to start conversations."
As preferred advertising partners, Sport Chek and Samsung were the Canadian beta testers for the new ad unit in Canada. Using it as part of its "Gift of Sport" campaign during the month of December, Sport Chek and its media agency Touché! created a new video each day between Dec. 1 and 25, with a different prize that Twitter users had the potential to win. Twitter users entered the contest by hitting the #GiftofSport button on the conversational ad.
Marc Binkley, social media marketing manager at FGL Sports Ltd., says tweaks that Twitter's team made to the unit during the beta test improved the product. For instance, Twitter added the possibility of using images as well as videos in the ad unit and also made the unit available for purchase as a CPM, which it wasn't at the start of the beta period.
Samsung and its agency Starcom activated its beta test with the new ad unit with creative that ran in mid-December. One ad ran on a Sunday afternoon and showed a short video then asked users to click whether it was "#TimetoStay" or "#TimetoGo."
Conversational ads are available to beta testers in select Twitter markets. There is no timeline on when it will be moving beyond beta partners.