Quebecor Media wins Teo Taxi account
The Montreal-based electric cab company will have advertising available in March on its fleet of vehicles.
Téo Taxi has selected Quebecor Media Out of Home as its business partner, giving the media company exclusive rights to advertising within its taxis.
The Montreal-based electric taxi company, which is the first of its kind, is currently in test mode and has handed over its advertising, sponsorship sales and management business over to Quebecor Media. The advertising platforms are new and will be available for display to advertisers starting March 2016.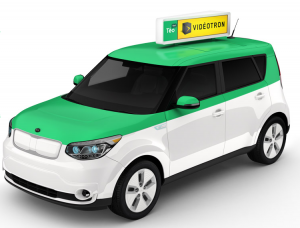 Space for advertising will be available on electric charging stations, taxi roof-top signs and digital tablets located within the cabs. The media company is working to develop unique content to enhance passenger experience including real-time news, weather information and entertainment.
"By making Wi-Fi and a digital tablet available to customers, Téo Taxi will provide dynamic new opportunities to reach consumers when they have time to use the interactive functions of the digital tools," noted Donald Lizotte, EVP, advertising sales at Quebecor Media Out of Home.