Brees names new client lead
Sana Ali takes over as VP at the agency, where she is currently in charge of client management.
Sana Ali is the new client lead at Brees Communications. Ali, who moves into the position of VP, has been with the agency for the past eight years.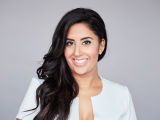 Ali will head the account management and media teams and will also be tasked with developing client relationships and driving the agency's portfolio.
Brees current clients include Dufferin Mall, Eglinton Square, Ontario Electronic Stewards, Alzheimer's Society Canada, Canadian Scholarship Trust Plan, Canadian Stewardship Services Alliance (CSSA) and Crohn's and Colitis Canada.