How to not get left behind
Media in Canada identifies three major takeaways from this year's week-long FFWD 2016 conference.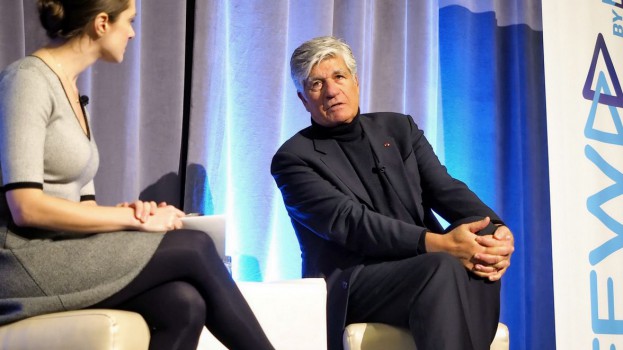 FFWD AdWeek launched its first theme-based year this past week, responding to anxiety in the industry about fast-moving changes in consumer consumption and media behaviour. That theme, "Don't let change leave you behind," saw a series of presentations on adapting to the times.
Here, MiC breaks down the top three takeaways:
1. Mobile is where the consumer is
CMOs should be keeping their eyes on the mobile market and looking to see if their target audiences are migrating to mobile. According to Facebook and Yahoo, mobile is where consumers are and it's where advertisers are fast following. In his presentation, Facebook Canada's Josh Bloom noted that 78% of Canadians are smartphone-connected. The company also released its Q4 numbers, showing that 80% of its total ad revenue for the quarter ($4.5 billion) was mobile ad spend.
Yahoo's presentation also focused on the power of the mobile, sharing data from Flurry with attendees. According to the company, 78% of people sleep with their phones while Canadian app users spend seven million hours in apps per month. Canadians also spend two hours and 12 minutes each day on their mobile phones. Over the past year, the company has seen a 59% jump in people who check their phones more than 60 times a day.
Matt Devlin, managing director of communications planning at PHD, said during a Yahoo Canada panel that creating a good mobile experience isn't easy, but it's something that the industry needs to challenge itself with doing to keep pace with consumers. He predicts that 2016 will be a year of separation between those that are doing mobile well and the ones that are going to lag behind.
 2. Data is king, but how do we farm it?
Bell Media's VP of strategic sales Mark Finney said his team is on the lookout for partners to help them create a tool that accurately measures cross-platform audiences within the next year.
Data is bringing the industry closer than ever to the individual-level marketing utopia, through advances like set-top boxes as presented by Shaw Media and custom targeted ads, but the one-to-one dream is still awhile off from reality. Devlin noted that many marketers don't realize the data they have is more valuable than the actual products they're trying to sell.
One of the challenges the panel identified with data farming is many clients not having having a closed-loop system of information, with some data being out sourced to other parties and not easily accessible.
Maurice Lévy, chairman and CEO Publicis Groupe, Paris, said during Friday's closing lunch that data is an extraordinary tool, but it is in fact just a tool. And one that should be used intelligently.
Indeed, it is. That subject was at the core of NLogic's president David Phillips' presentation. Phillips offered up a number of tips, suggesting that those charged with understanding data become "investigative journalists." The only way to use data effectively is to ask the right questions based on each brand's needs.
Facebook's IQ service does that by showing clients just how specific the usage of its key potential demo might be. If you want to target new moms, for instance, 7 a.m. might be the best time to reach them on digital channels.
3. It's time to embrace programmatic buying
You can't afford to shy away from programmatic, especially if you're a big business and you've got plans to scale your operations up. Adobe's group product marketing manager, Pete Kluge shared the stage with its client, The Shopping Channel, to share insights into how programmatic allowed the latter to scale its business. With a five-year window before 75% of all digital ad transactions are automated and 50% of display ads to be transacted programmatically by 2019, Kluge showed how suggested it's a good time for hesitant marketers to play catch up.
Even a small shift in the U.S. $80 billion TV ad market to programamtic channels is a significant chunk of change, Kluge noted. Overally, programmatic advertising is still in its infancy with only 23% of marketers using it and 31% not aware of it at all, according to research from Forrester, but it is expected to grow and grow fast soon.
Programmatic video will also grow quickly as advertisers seek to match consumer behaviour, while achieving transparency and scale, with video expected to be a primary ad unit by 2020.
Photo by Dave West Photography (left to right): Susan Krashinsky, advertising and marketing reporter for the Globe and Mail and Maurice Levy, CEO, Publicis