AAM tackles magazine aggregation platforms
New metrics are aimed at providing a clearer picture of content consumption on unlimited-access distribution models.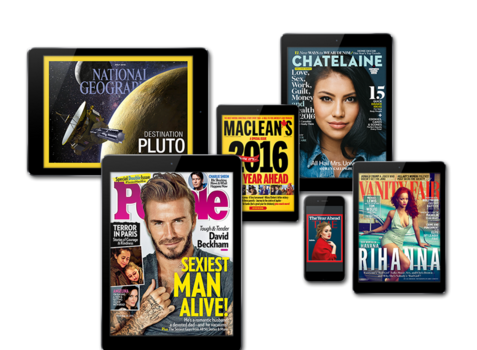 Measurement bodies are succumbing to pressure from a fast-changing media landscape by altering their models to match both new modes of consumption and new publishing models.
The Alliance for Audited Media has also emerged with some tweaks. The industry body has a new circulation category called Multi-title Digital Programs, with the aim of providing a clearer picture of media consumption in the unlimited-access digital magazine distribution space.
The new category relates specifically to platforms like the Texture app from Next Issue Media, of which Rogers Media is a partner with Condé Nast Publications Inc., Hearst Corp., New York-based private equity firm Kohlberg Kravis Roberts & Co., Meredith Corp., News Corp. and Time Inc. That category also includes U.S.-based distributors like Magzter, Zinio and Readly. Beginning June this year, AAM will begin reporting measurement data for this category, covering the first six months of 2016 in its regular report, which it will issue in the fall.
Industry-wide measurement bodies are looking to capture data more effectively. This week, ComScore announced the completion of its deal to absorb Rentrak, a deal aimed at giving advertisers a more holistic picture of their media spend. Late last year Vividata was formed out of the ashes of the PMB and Nadbank, offering an unduplicated view of newspaper and magazine circulation data. Likewise, the Alliance for Audited Media has emerged with some tweaks.

Until now, magazines included in digital distribution models were able to report each subscriber that downloaded an issue as a newsstand sale.
Over the past three years, AAM has been working with the Association of Magazine Media, Magazines Canada and 100 of its magazine member clients to develop an accurate way to measure circulation for such aggregated platforms.
"It was early days at that time," notes Joan Brehl, VP/GM at AAM Canada. "Our directors wanted to see what kind of volume was involved. Would this model take off?" When it became clear that the model had developed in volume and sophistication, she says, it was time to develop more transparency around measurement as well.
As of June 2015 both U.S. and Canadian markets for digital newsstand copies from Texture total about 2.1 million; 250,000 of those are from Canadian titles.
That is significant growth, notes Brehl, given that Texture only added Canadian titles to the platform when Rogers Media joined the partnership, launching Next Issue in Canada in October 2013.
The 250,000 downloads compose 3.6% of total magazine circulation in Canada, and comprise over 60% of total digital circulation (which includes visits to websites, etc).
The new category sees a shift in how publishers will report the addition of their digital magazine to a readers' list within Texture, counting AAM-audited titles as a paid subscription sale instead of a newsstand sale. Within that category additional metrics will also be collected move measurement closer to gauging engagement, says Brehl. These include the average number of total requests for a digital issue, the average number of times those issues were opened and the unique and total opens.
What this means is that the AAM is measuring engagement with distributors based on circulation units. Only those titles that have been downloaded as a single issue will qualify for the Multi-title category. Since these platforms also allow users to pay per article, those metrics will be calculated as part of unique and total opens measurement.
Sources (Texture, Magzter, etc) for accessing issues of particular magazines will also be listed on the report along with their stats.
AAM has also added a slew of products to respond to the needs of its members,which are expected to hit the market in the first quarter of this year.
For instance, the organization is launching the AAM Brand view, which will be an online dashboard through which publishers will be able to share their cross-media measurement details with buyers and advertisers. Another tool that is under development is the AAM Site Certifier, which is in partnership with the Institute of Verified Communications and called the Global Alliance for Digital Assurance. The certifier will verify key metrics for each publisher from Google Analytics and Adobe Analytics.
To respond to another major trend in the business, AAM is also launching an ad block detection product, which will have the capability to detect consumer adoption of blockers across browsers, locations and devices.