Spotted! Breakfast sandwiches amidst a field of gold
The Egg Farmers of Canada took over Yonge-Dundas Square to promote the importance of high-quality, local eggs to the Canadian morning meal.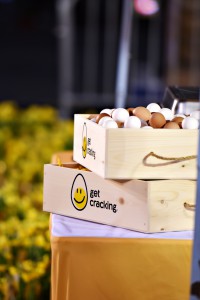 Commuters who passsed through Yonge-Dundas Square yesterday might have found their hearts filled with pleasure and dancing with daffodils, transporting them momentarily to the golden fields of Lake District, circa 1800s.
The Wordworthian mirage was real, and its association deliberate, as the Egg Farmers of Canada flooded the downtown square with 2,500 pots of yellow daffodils and breakfast sandwiches filled with local, high-quality eggs.
Those who visited the experiential activation walked away with their tummies full and a pot of daffodils to greet them the next morning.
The creative for the executive was developed partly by Cossette and partly by Citizen Relations, which also handled the event.
The activation was part of a campaign set into motion by the group that is aiming to draw attention to the nutritional benefits of eggs. Not that Canadians need to be convinced about the goodness of eggs. According to a survey conducted by the group, over 85% of Canadians believe that eggs are nutritious and a great way to get going in the mornings.
Canadians prefer their eggs served scrambled (69%) or as an omelette (66%), with only 44% keen on egg salads.