Wealthsimple's not-so-plain campaign
The financial co used the Super Bowl as a launchpad for a three-month campaign to get younger Canadians interested in planning for their future.
It doesn't matter if advertising your brand during the biggest media event of the year costs a fortune. Any which way you look at it, that prime spot is undervalued. That is the point that an investment startup made when it splashed its name alongside advertising heavyweights during the Super Bowl on Sunday last.
With that move, Wealthsimple debuted a three-month campaign aimed at growing its clientele and building brand awareness.
The Toronto-based investment company is building its business around getting younger Canadians (aged 25 to 39) to set up accounts that it says will ensure them financial comfort as they age. The company currently has 10,000 customers and about $400 million in assets that its manages.
To grow that base, it has launched "Take Care of Yourself," its first go-to-market campaign. The company chose the Super Bowl to kick-off a three-month, multiplatform campaign that will run through April 2016.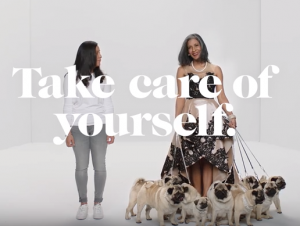 The Wealthsimple team decided against investing in a creative agency and developed ad copy in-house. It hired Vice Media's in-house creative services division, Virtue as producer and brought on independent talent. The spots were directed by Jun Diaz, edited by Saints Editorial and the sets for all four spots were developed by the set designer and cinematographer from Drake's "Hotline Bling."
Wieden + Kennedy worked on media planning for the campaign.
"We started with the question, How do we get people interested in wise, dispassionate, optimized investing when they're young and they still have time to do it painlessly?" explains Jason Goldlist, CMO at Weathsimple. The campaign, he says, is aimed at reaching those Canadians "who have the ability to put away some cash for the long term."
The four video spots show four young people interacting with their future selves to see what solid investments can reap.
The company took a 180-degree turn from a typical advertising position for smaller brands: diversify, keep costs low. In an online post justifying the company's position, founder, Mike Katchen shared some key stats and numbers. Take for example, the cost of a 30-second spot during the Super Bowl in the U.S.: $5 million; cost of same spot in Canada: $170,000. Also, more heads proportionally tune in to see the Super Bowl in Canada – 55% over 51% in the U.S. No matter how you slice and dice the numbers, Katchen notes, advertising during the Super Bowl makes more sense (in terms of per capita investment, reach and cost) than advertising on The Big Bang Theory, the Stanley Cup and a number of other key advertising spaces.
Armed with that kind of insight, Wealthsimple took the $170,000 gamble, which ended up being less than 10% of their total media spend, using the event as a launch pad for its campaign.
In addition to airing during other live events (NBA All-Star Game, the Academy Awards, etc) the 30-second spots will also roll out in select theatres across Canada. The Wealthsimple team would have liked  to advertise at Cineplex theaters but the media and entertainment company's partnership with Scotiabank bars financial companies from advertising at the major cinemas. Instead, the company placed spots in indie venues like Landmark Theatre. 
Online, the spots will run as preroll on YouTube, Vice and Vox, as well as other sites. 
The campaign has a paid social component as well on Facebook, Twitter and Instagram.
Additionally, Wealthsimple is currently looking at tying up transit and OOH for "Take Care of Yourself." That is likely to include a street-car wrap, or a station take-over and ads on HD screens in bus shelters in downtown Toronto.