Mazda plays it safe
The car co has partnered with Waze to alert drivers when they're at Canada's most dangerous intersections.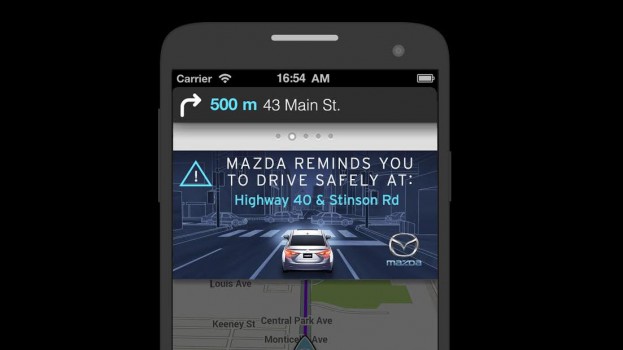 Mazda is aiming to make Canadian streets a bit safer with a campaign its running on crowd-sourced traffic and navigation app Waze.
The car company has placed ads that pop-up on the screens of app users when they are stopped and approaching one of Canada's 20 most dangerous intersections. The display ad reminds them to drive safely. According to Michael Tsang, interactive marketing manager, Mazda Canada, the car co spends over half of its annual media budget on digital advertising.
The timing of the campaign is aimed to keep Mazda top of mind during the current auto show season, with ads continuing to run through the spring, and the potential to expand to include additional intersections. Audi is also looking to make its presence known during the Canadian International Auto Show, which is on now and running until Feb. 21. The car co partnered with the Globe and Mail to run a live streams of car tours on its website live from the show floor.
Mazda's partnership with Waze will be promoted on the auto co's social media channels and its website as well as at auto shows. The Canadian International Auto Show is currently on at the Metro Convention Centre in Toronto and runs through until Feb. 21.
Media on the spots is by Mindshare with creative by JWT. Michael Tsang, interactive marketing manager, Mazda Canada, says the ads are different for the brand because they're promoting safety generally and though there is an image of a Mazda3 in the creative, the spots aren't advertising any one car.