Bell Media Radio announces changes
New lineups are coming to TSN 1050 Toronto and 580 CFRA, following layoffs at the Ottawa station.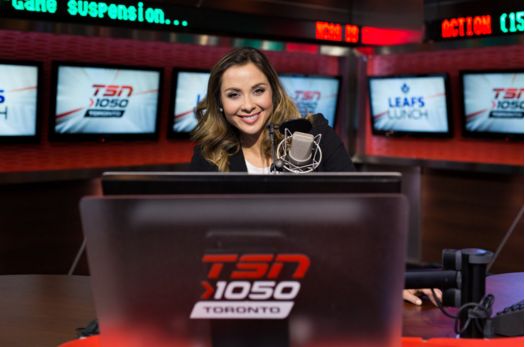 Two Bell Media Radio stations will soon have some new voices, with the media co announcing updates at TSN 1050 Toronto and 580 CFRA in Ottawa.
There will be several changes at TSN 1050 Toronto, beginning in the morning with the introduction of Naylor & Landsberg in the Morning. The new show will be hosted by Dave Naylor and Michael Landsberg, and will regularly feature a roundtable of sports insiders and experts.
Leafs Lunch, which runs from noon to 1 p.m. is getting an overhaul, with Andi Petrillo (pictured above) joining as the first female daily sports radio host as the new voice of the show.
Former Leafs Lunch host Brian Hayes moves to the afternoon drive, joining, Jamie 'Noodles' McLennan and Jeff 'The O'Dog' O'Neill as the new hosts of the 4 p.m. to 7 p.m. time slot.
Ottawa's Newstalk 580 CFRA is also undergoing some changes, with news earlier this week that morning show host Mark Sutcliffe as well as contractors Ron Corbett, John Counsell and Nick Vandergragt were all laid off from the station earlier this week.
Taking over the morning slot on the station is AM640 Toronto veteran Bill Carroll, who will now host the 6 a.m. to 10 a.m. slot in Ottawa.
The station's weekday evening schedule is also changing, with the introduction of Beyond the News with Brian Lilley from 7 p.m. to 10 p.m. Lilley most recently worked as the host of Byline with Brian Lilley on the Sun News Network and writes a column for Sun Media newspapers that typically appears on Fridays.
The changes at TSN 1050 Toronto will be in effect starting Monday, while the shifts at 580 CFRA will take place on March 7.