CF gets traditional to attract high-end shoppers
The company's SVP of marketing on the mass luxury push it has launched to reset the mindset of potential consumers.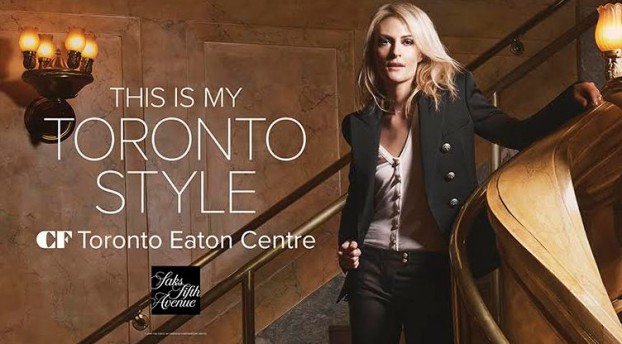 Cadillac Fairview (CF) is putting the luxury tag on two of its most visited properties.
The CF Eaton Centre and CF Sherway Gardens are undergoing transformations, aiming at attracting wealthy, luxury-label shoppers by boosting the marketing spend for the malls in 2016.
As part of that transformation the company is in the process of welcoming incoming stores like the department stores most loved by that demo: the U.S.-based Saks Fifth Avenue, Nordstrom and Uniqlo.
With Sak's opening its doors at Eaton Centre last week, the company is keen on getting out the message to as many high-end shoppers as possible, says Jason Anderson, SVP, marketing at Cadillac Fairview.
"This is about a change in perception, and that's going to take way more than two opening days to make that happen," he says. "This will be a sustained effort to change the perception of the brand."
Creative in the new campaign focuses on Canadian celebrities like Toronto-based chef Susur Lee, professional hockey player Joffrey Lupul and singer-songwriter Emily Haines in clothes from Saks, next to the tagline "This is my Toronto Style."
Because the campaign aims to reach as many luxury customers as possible, CF, along with its media partner BBR, creative agency Traffik and public relations partner North Strategic, focused the majority of the media spend (60%) on more traditional OOH and print channels. The remaining 40% of dollars were spent on digital. That's compared with CF's holiday campaign, which saw two-thirds to three-quarters of the total media spend placed online.
CF Eaton Centre and CF Sherway Gardens are tripling their marketing budgets for 2016 versus 2015 in order to get the word out about the new stores, says Anderson. So even though there is less of a focus on digital for this campaign versus its digital-heavy holiday campaign, the company is still spending more on the platform than it typically would be.
Targeting high-earning Torontonians, static OOH ads will be placed in areas of the city like Yorkville and Billy Bishop Airport, Pearson International Airport, with digital superboards along the Gardiner Expressway. Print ads will be in the Toronto Star with additional ads in Star Touch. Creative on digital ads will include a video created by Notch Video welcoming Saks Fifth Avenue to the malls.
Though this campaign is more focused on traditional channels to amplify reach, Anderson says that CF's holiday push, which featured a higher emphasis on digital than past promotions, was a success. That campaign resulted in sales jumps in the mid-single digits with traffic up over 1%.
"There are a lot of shopping centres that are in survival mode, but we are lucky to not be in that position," says Anderson. "This isn't about survival, but is about continuing to thrive."