Cineplex bags Roundhouse Park location for new Rec Room
The media and entertainment co has announced its third Rec Room location will be in a major Toronto tourism centre.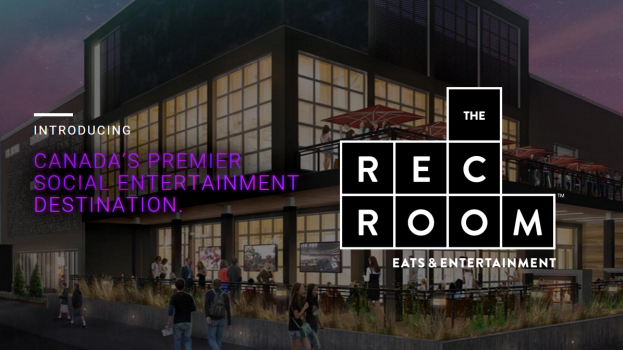 Cineplex Entertainment has officially expanded its Rec Room beyond the borders of Alberta, with an announcement this morning of the third location for its live entertainment and gaming concept.
The first Toronto-based Rec Room will be located in one of the city's highest-trafficked tourist areas, in the historic John St. Roundhouse (a.k.a. the Steamwhistle Roundhouse) and Roundhouse Park complex on Bremner Blvd. The venue will sit across from Toronto's most known landmark, the CN Tower, as well as the Rogers Centre, Ripley's Aquarium and nearby Air Canada Centre.

The 40,000 square-foot space, which is leased from John Street Roundhouse Development Corporation and takes the place of what was most recently a Leon's furniture store, is slated for ribbon-cutting in Q1 of 2017.
The first two locations for the Rec Room, which combines live entertainment, gaming and dining, were announced last year in Alberta, the first one in Edmonton, the second in Calgary. Both those locations are expected to open doors to the public in 2016, with Edmonton ready for business this spring. The media and entertainment company has plans to open 12 to 15 such locations across the country over a period of years and says it will make an announcement shortly about its fourth location.
The Rec Room targets young adults and families, as well as businesses that can host corporate events and parties at the space. In addition to hosting live events, each Rec Room hosts an open-kitchen concept restaurant, a bar, an gaming and recreation space and an auditorium.
In the last quarterly call with investors, Ellis Jacob, Cineplex's CEO, stated that the rollout of the locations would be announced gradually depending on how easily the company was able to find the kind of space it needs for each of the Rec Rooms. With the upcoming closure of Leon's in a central, downtown location, the media co was able to move in and secure a key Toronto location of the size it needs.
In the same call, Jacob also responded to analyst questions about the impact of the economic downturn on the business in Alberta. However, Jacob has repeatedly said that a poor local economy is good for local business because it keeps regular out-of-province travelers at home and hunting for local entertainment options.
Cineplex continues to grow its business alongside its core movie theatre business. In addition to the Rec Room it is also expanding its reach into the gaming world, hosting a series of regional gaming tournaments that will culminate in a national final in Toronto on March 6.