Ovarian Cancer Canada to honour Lauren Richards
The Pollin8 founder is being recognized for her role in bringing together the media community to raise the profile of the disease through its first-ever national campaign.
Lauren Richards will soon receive an award from an organization she has come to know quite well. At its annual fundraiser at the CBC Studio last evening, Ovarian Cancer Canada raised a toast to Richards and announced that her as the recipient of the Virginia Greene Award in recognition of her work to advance the awareness of the deadly disease.
Richards, who was diagnosed with ovarian cancer in 2014, lent her media expertise to the organization last year as it dove into creating and positioning its first-ever national campaign to bring attention to the relatively unknown form of cancer.
The event, "Love Her," was hosted by Canadian actor Jessica Holmes and featured cancer survivors like Elly Mayday and social media celebrity Calysta Bevier.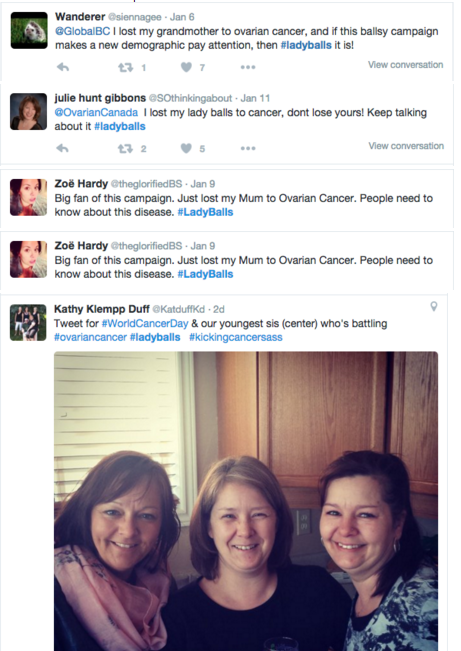 The award, which will be presented to Richards at the organization's Vancouver gala, was founded in memory of Vancouver-based businesswoman Virginia Greene who died of ovarian cancer in 2010, and who had been a major fundraiser for breast cancer before being diagnosed of ovarian cancer herself. Previous honourees have included doctors and researchers who have advanced an understanding of the disease. But this is the first time the OCC is crowning a media and marketing personality for their work in raising awareness for the ovarian cancer. 
The campaign, which ran between December and February, was titled "Lady Balls" and was built around the message that women need to speak up and share their stories of suffering (and triumph). The deliberately strong messaging was to attract attention to a type of cancer for which there is no real testing process, and which is rarely diagnosed in its early stages. Its media mix was built through the support of media space from a wide range of media companies, across platforms; Richards negotiated most of those deals.
The campaign was created by Grey for Good, a division of Grey Canada. Its execution resulted in a huge spike in web traffic and an increase in the volume of calls to OCC.  The campaign also resulted in earned media that garnered over 60 million media impressions.
Other results from the campaign were a 118% increase in requests for By Your Side, OCC's resource guide, and a $100,000 pledge from a survivor after they heard the campaign on radio. The campaign saw a 90% increase in impressions on Twitter between December and January, while Facebook reach increased by almost 40% during the same time. Engagement on both social platforms also increased between 23% and 26%.
"Lauren Richards put her face behind the campaign," says Karen Cinq Mars, VP, marketing at OCC. "She challenged the media. So thank you to the media that rose to the challenge. Our stats are unbelievable.
Mars says the impact of the campaign has been felt throughout the OCC's offices, with calls from cancer survivors who didn't know the organization existed, people applying for a position at its Quebec office inspired by the #ladyballs campaign on social, and funders pledging handsome amounts to support the OCC's work.