How brands are reaching consumers
Cross-screen video ads continue to grow, with mobile included in most campaign mixes, according to a Videology report on the Canadian market.
Mobile advertising is posting the most significant growth in usage for Canadian campaigns.
That's according to an infographic from Videology, a TV and digital advertising software provider, that has presented Q4 findings specific to the Canadian market based on the usage of its platform by advertisers.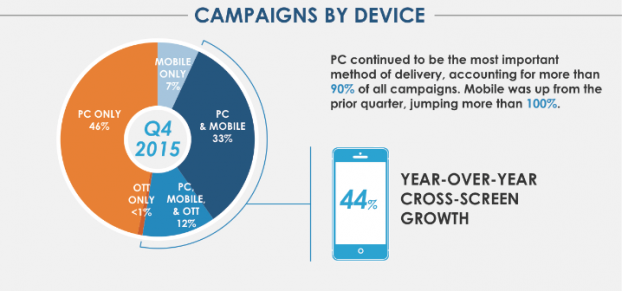 In general cross-screen campaigns continued to increase, registering a 44% year-over-year growth. 
The results are based on an analysis of impressions served for video campaigns on the Videology platform in the fourth quarter of 2015.
That analysis shows that 46% of campaigns focused on desktop alone, making it the most-used of all video campaigns, while 33% targeted a combination of desktop and mobile. A small but significant 7% of campaigns were mobile-only, compared with 3% in the previous quarter.
Ryan Ladisa, managing director, Videology Canada, said in a press release the stats reflect the changing media landscape. "Brand advertisers are focused on delivering ads to the right audience, and making sure those ads are seen. They are increasingly comfortable with allowing those ads to run beyond the desktop computer, to include the full mix of devices where their consumers are watching content."
Campaign objectives were measured mostly through an analysis of a view-through rate, with 64% of advertisers looking to that metric. A focus on viewability was also up 3% from the previous quarter, though it remained small at 6%.
CPGs and the automotive sector were most invested in running video campaigns. with 28% of such campaigns run by consumer goods companies and 26% by automakers. With behavioural targeting data becoming more relevant to advertisers, 40% of ad impressions included that information, with 69% of advertisers using third-party audience verifiers like Nielsen and comScore.