Newcap aims to fill a void in Toronto radio
The company is focusing on throwbacks, rebranding Flow 93.5 as 93.5 The Move.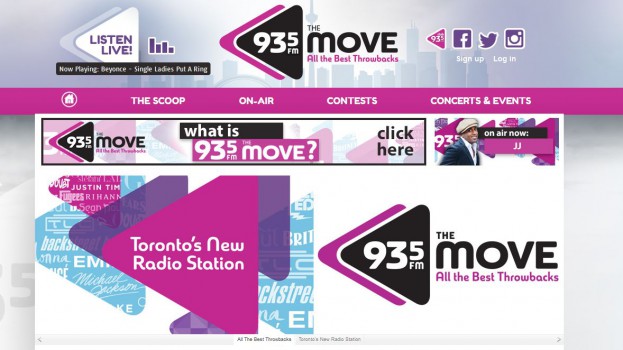 Newcap is rebranding a 15-year-old radio station with the aim of filling a void in content in the Toronto market.
The company has changed Flow 93.5, known for its emphasis on current urban music, to 93.5 The Move, a station that will be focused on throwbacks from the '90s and 2000s. The station will feature artists like Destiny's Child, No Doubt, Backstreet Boys, Lady Gaga, Justin Timberlake and Michael Jackson.
Newcap bought the station from Bell Media in 2013, following its acquisition of Astral Media. After the ownership changed hands Newcap began researching the station and how to expand its audience. Lorie Russell, Toronto general manager, Newcap, says the company found an opportunity to play popular music from the '90s and early 2000s that wasn't being played elsewhere. But, she said the owners found that the station could only move away from its roots so far with the old branding.
Russell says the station's new branding is targeting a genre she says isn't being reached by other stations in the market. She adds the station is targeted specifically at adults 35 to 44.
"We had an opportunity to get out of the laneway that was heavily populated with Z103.5, 99.9 Virgin Radio, KiSS 92.5, and look at shoring up a demographic that was a lot easier to monetize," she says. "When we first came in Flow was niche, but the brand image was too heavily cemented into older hip hop and rap. We needed to move away from that to build a generation of listeners that could be passionate about the throwback music."
David McDonald, VP, director, radio investments, IPG Mediabrands Canada, agrees that building a new station identity was the easiest way to change the perception of the brand.
"With so many stations playing in the Top 40, CHR and Hot AC arena the format landscape was crowded," he says. "Aging the target audience by increasing the number of old song throwbacks will enable the station to partially step out of that crowded arena into an area where there is less competition and far more potential to gain share."
The station's new branding is being promoted with an OOH-heavy campaign with media from Twenty6two and creative from Vancouver-based Traction.
Three staff were let go as part of the rebranding, with Russell saying that new announcers are being added now that the station has announced its future direction.
The goal of the rebranding is to move the station from #10 to #5 with adults 35 to 44 in Toronto, says Russell.