Skinny basic: a primer
What the major cable companies are offering, and how it's being marketed online.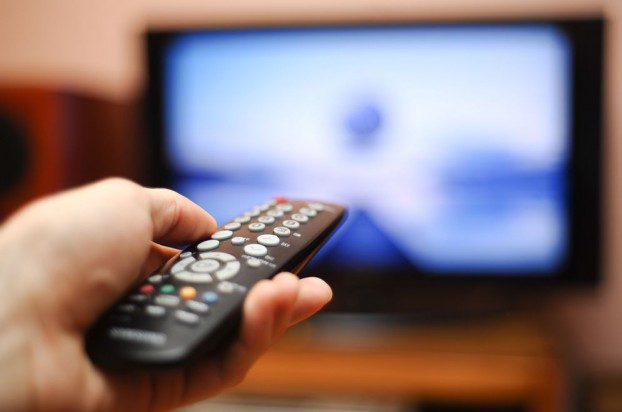 It's the dawn of a new month and a new era in Canadian TV, as cable companies roll their skinny basic packages out to consumers.
Starting today, all cable companies must offer a package of Canadian channels for under $25. That package must include all local and regional TV stations, APTN and CPAC, and applicable local and regional channels. Cable companies must also give the option of supplementing that basic package with additional channels, with up to 10 options.
The introduction of skinny basic packages is the first phase of the pick-and-pay rollout with all companies required to unbundle packages and offer individually priced channels by the end of 2016.
Though the impact of the new packages has yet to be seen, Anne Myers, COO at Starcom MediaVest Group and CMDC board member, says she expects the impact of skinny basic on cable subscriptions to be minimal in the short term, with the potential for an increased change in December. "Pricing will have a major influence on whether consumers think it is worth the effort to make the switch," she says.
Though available today, packages are often placed at the bottom of the page of each cable company's site. As of press time Cogeco is the only measured company to make mention of its new packages on its Twitter page this morning.
Here are the packages that each of the major cable companies are offering as of today, and how they are marketing them on their websites:
Bell:

Bell is marketing its skinny basic offering as a "starter" pack, which is priced at $21.99 with a $3 monthly digital service fee. The cable company's 26-channel offering doesn't include any U.S. channels. Caroline Audet, senior manager, media relations, Bell, tells MiC the company chose not to include those channels because "most of the programming on the popular US channels is available on Canadian networks like CTV, CBC, Global and City."
In addition to the skinny basic, Bell has already priced out many of its channels individually, with prices ranging from $4 to $7. Not all channels have been individually priced yet, with TSN and Sportsnet as well as higher-profile channels like HBO and TMN not included. Consumers who buy the "starter" pack can choose an additional 10 channels from the list that have been individually priced for $37 a month.
Cogeco: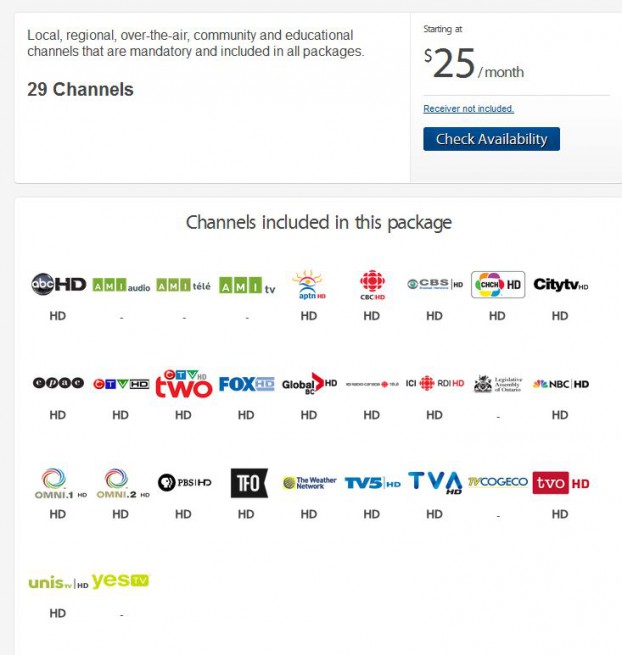 Cogeco is charging $25 a month for its new basic bundle, which includes ABC, CBS, Fox, NBC and PBS in its set of 29 channels.
The cable company has created a set of nine packages that can be added on to the basic package, which range in price from $6 a month for Hollywood Suite to $33.99 a month for the super sports package, which includes U.S. sports channels like MLB Extra Innings and NHL Centre Ice.
Cogeco has also priced out the majority of its available channels individually, but has also left some (like HBO and TMN) off the current list. Channel prices range from $3.50 to $19.99 for Sportsnet World HD. Customers can choose to create custom packages of 10, 20, 30 or 40 additional channels in Ontario, or of 10, 15, 20 or 30 channels in Québec.
MTS:
MTS' new package includes 24 channels and the set-top box rental for $28 a month. Its offering includes the U.S. channels.
Additional packages can be added on to the "basic pack" for between $3 and $10.
Rogers:
Rogers began testing with skinny basic in London, ON, a few years ago, with the results of that 1,000-person project informing the packages it rolled out today, says Jennifer Kett, director, media relations and issues at Rogers Communications.
The cable co is offering a package that includes the mandated channels as well as the network U.S. channels that were not required to be part of the offering by the CRTC (ABC, CBS, Fox, NBC and PBS).
Rogers has the new $24.99 package listed as a "new package" at the bottom of the TV packages page and is marketing it with the question "only looking for the basics?"
The cable co has also created 29 theme packs that can be added on to the $24.99 package, and range in price from $3 to $18. The most expensive add-ons are for Sportsnet, TSN and additional French channels like Canal D, Series+ and Historia.
SaskTel:
SaskTel is including 19 channels in its new "Lite maxTV" package, and like Bell, is excluding the U.S. channels from its new offering. The company's new package is priced at $25 a month.
Customers can add on to the skinny basic option with new packages that range in price from $5.99 to $18.95 a month.
Shaw's new "Limited TV" package contains 40 channels, including those not mandated by the CRTC (such as ABC, Fox, PBS and NBC) as well as Global, City, CTV, CTV 2, CBC and TVA. Shaw Communications was less secretive than some of the other cable providers in announcing its new $25 package, making the information available – no leaks necessary – on Feb. 17.
In addition, Shaw customers have the option to choose from 24 "theme packs" that can be added to the Limited TV package. The theme packs range in price from $6 to $15.
With files from Jordan Pinto
Featured image courtesy of Shutterstock