VerticalScope boosts Torstar digital, but print slide continues
Executives detail new Star Touch numbers on the fourth-quarter call, which also discussed drops in print ad and flyer revenues and digital gains.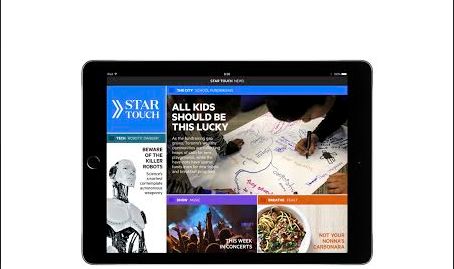 Digital gains associated with its investment in VerticalScope weren't enough to offset print advertising and flyer distribution declines in the fourth quarter of 2015 for Torstar.
Torstar reported segmented revenue of $233 million in the fourth quarter of 2015, down $11.9 million or 4.9% from the $244.9 million reported for the same period in 2014. VerticalScope's revenue increased 22.7% in the fourth quarter of 2015, compared with the same period in 2014.
Revenue at Torstar is also down for 2015 overall, with the company reporting a drop of $61 million or 6.7% for the year. That decline was partially softened by a $15.1 million increase in revenue associated with its July 2015 investment in VerticalScope. Excluding the company's proportionate share of revenue from joint ventures and its 56% stake in VerticalScope, revenue was down $71.5 million or 8.3%.
Digital revenue across all segments increased 13.6% in 2015 overall, largely due to the investment in VerticalScope, as well as revenue growth at eyeReturn, Thestar.com and in local digital advertising at Metroland Media Group. Digital revenues were 14.9% of total segment revenues in 2015, compared with 12.2% in 2014.
Executives on the investor call analyzing the fourth quarter results released new metrics around users on Star Touch, which Toronto Star publisher John Cruickshank, says has been building audiences at a slow but steady rate.
Currently the app is reaching 65,000 tablets per week and 26,000 a day, with 50,000 app sessions a day. The average user reads content on the app three times a week, with average time spent per user of 22 minutes.
"We were very focused on visibility and downloads," says Cruickshank of the marketing push behind the launch in the last quarter of 2015. "Now half the focus is on driving frequency and getting people to come back, showing off what's unique on Star Touch."
Responding to an investor question on whether ads on Star Touch are eroding the print business, Cruickshank says that sales on the platforms have been complementary.
"Experience so far is that it's helping on the print side and also helping to develop us as a strong digital player," he says.
David Holland, president and CEO, Torstar, says that the goal for the app is to get to 100,000 users a week. Holland says there will be a $10 million investment in Star Touch in 2016, with a marketing push heavily weighted at the start of the year.
Torstar executives also mentioned the upcoming closure of its Vaughan, Ont.-based printing plant, with the transition to printing the Toronto Star with Transcontinental expected to be finalized by July. That move is forecasted to cost Torstar $22 million this year, and save $10 million annually once printing has fully transitioned to Transcontinental.