Livefyre weaves social into new publishing product
Storify 2 is a publishing software that allows newsrooms to quickly publish stories and to respond in real-time to user-generated "moments."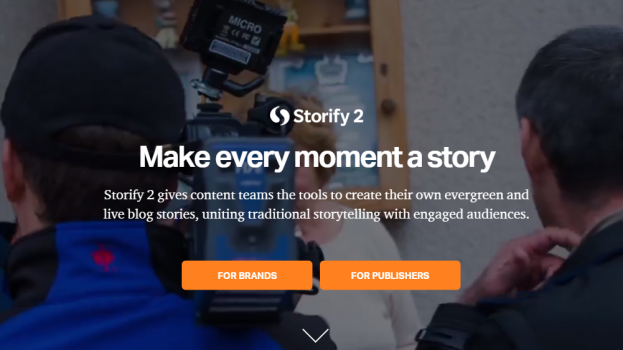 How many citizen journalists do you need to turn on the content-churn button? There may not be a scientific answer to that question but publishers now find themselves responding to stories driven by sharing or attention on social networks. The Toronto Star devotes a regular front-page section to covering stories that reflect the impact of social media chatter.
And while newspapers might be struggling to monetize assets produced through the labour of their trained journalists, one U.S. company says it has a solution that will drive traffic and engagement to news sites. Based on the speedy nature of conversations in the social hemisphere, Livefyre says it has the answer to the monetization problem.
Its product, Storify 2, is a cloud-based product that lets publishers' editorial teams quickly write, edit and post news, video and photo stories. But what's new here is the product's social functionality that gives editors the ability to incorporate social commentary to develop further content, while also including reader comments in a special section. Editors are able to respond to real-time interactions to tweets, photos and videos by developing – and quickly posting – content that responds to the ongoing conversation.
The product, which is is now available to publishers in the U.S. and Canada, is aimed at giving publishers a way to quickly respond to the cycle of fast-paced content on social networks without investing in additional human capital.
The upgrade aims to combine "information from both reporters and the voices of their peers," according to Livefyre's founder and CEO, Jordan Kretchmer. "Publishers need to capitalize on this perpetual feed by pulling in real-time updates complementary to their narrative."
Storify 2, he says, not only does that, it also extends the life-cycle of reporter-developed content on a publishers site. Its algorithm is developed to capture important tidbits from social conversations and to create follow-up content by re-using content created by users. Content can be tagged and organized to be in one place, and the software is able to create visualizations based on content to create more opportunities for engagement.
Last year the Toronto Star decided to turn off its comments section. Storify 2, however, has added on a "Sidenotes" section, placed next to content but developed to encourage conversations on the site. Unlike comments sections, however, in addition to providing a space for reader opinions, the Sidenotes section is built to facilitate content for follow-up on the original story. 
The end result, says Livefyre, will be a social presence that drives traffic, increases page views and extends user engagement on a site.