Danone's new drink targets health-conscious women
The brand's new drink adds to its Activa range and targets busy women who are on the go.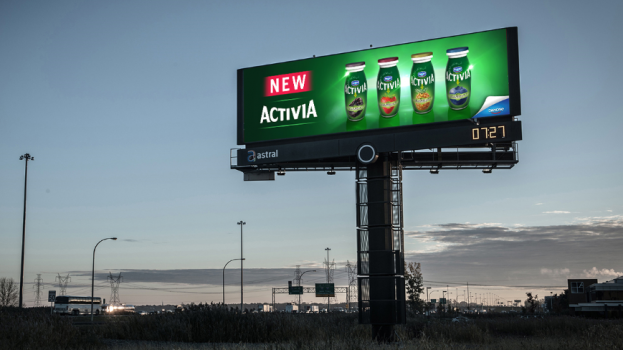 On the heels of the launch of a new Oikos snack range targeting a younger demo, Danone is out with another new product, its first-ever drinkable yogurt aimed at "educated and discerning" women in the 25-to-55 age range.
The product, which is part of its Activa line, launched in market on Feb. 29. As with its Oikos campaign, creative was executed by Montreal-based Saint-Jacques Vallee Y&R, with media by Carat.
Genevieve Bolduc, senior brand manager at Danone Canada, says the product was developed in response to a gap identified by the company. "…[M]ore than 75% of Canadian women recognize that probiotics have a beneficial effect on their health, but only 43% consume them regularly."

In addition, Bolduc says the company went with fruit-flavoured drinks as opposed to other combinations (chocolate, nuts, etc) because the brand's internal research shows that Activa consumers most prefer those.
A multiplatform campaign to build awareness for the new drink will be in market until August. Creative for the campaign was modelled along the way in which the beauty industry communicates product benefits. "That was the model we chose to follow for this launch, which is very focused on the importance of probiotics as opposed to the product itself," she explained. 
The campaign's media mix includes a national mass media buy  to grow awareness of the product, with an combination of TV, online, print, OOH and radio assets. The OOH component of the campaign includes digital and static board displays in English and French Canada, as well as media creativity projects in Toronto, Vancouver and Montreal.
The media strategy for the campaign has been built to reach its target demo – busy and active women – at key moments throughout their day. For instance, during their morning and evening commutes, the campaign reached women through OOH messaging, while supplementing that with radio ads during the course of the day.
Danone's annual Activa Challenge took place in January this year, inspiring a February launch for the new product given the media investment in place for the challenge, explains Bolduc. "This product launch is a good opportunity for us to follow up on a period with especially high brand visibility and consumer recall."
Products that launch early in the year – when consumers still remember their new year resolutions –  also tend to do well, she explained.