Ford buys the top of the chart: Media Monitors
The dealer association bought the most radio advertising in Toronto for the week of Feb. 29 to March 6.
The Ford Dealer Association jumped from #4 to #1 in Toronto for the period between Feb. 29 and March 6, buying the most radio advertising in the city for the week, according to Media Monitors.
Shoppers Drug Mart made a big jump to land at #2, moving up from #56 last week. BMO made a smaller move, up from #5 to #3. Sunwing Vacations dropped slightly, from #1 to #4 and Spence Diamonds moved up two, from #7 to #5, rounding out the top of the week.
In Montreal, Shopico stayed at the #1 spot for the second straight week. CTV entered the list at #2, while Sunwing Vacations stayed at #3 for the week.
Brault & Martineau moved up from #7 to #4 and Accent Insurance Solutions moved up from #10 to #5.
Toronto:
By brand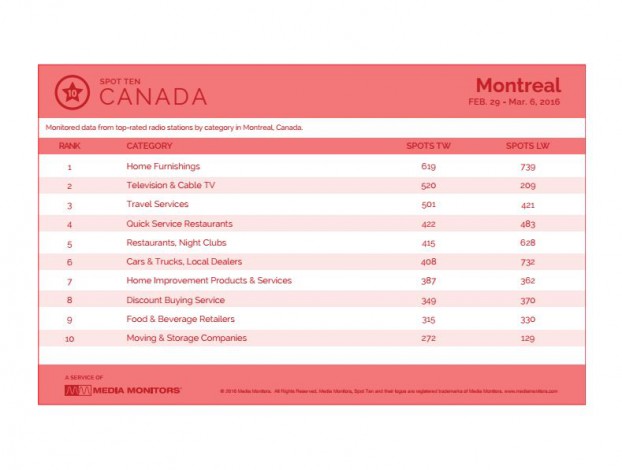 Image courtesy of Shutterstock