The Toronto Star's new face, in beta
With the aim of making its website more advertiser and reader-friendly, the publisher has rolled out a redesign.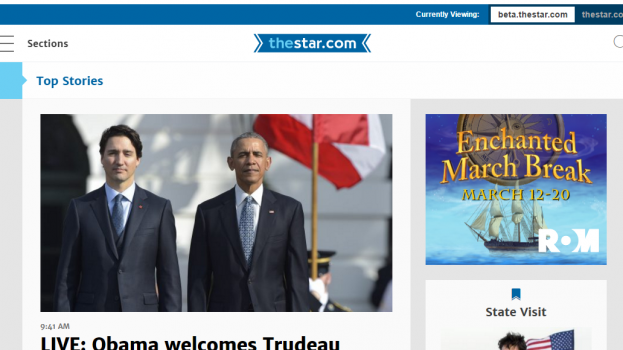 The Toronto Star has launched a redesign of its digital face as part of a continuation of its efforts to serve it online audience better.
In a letter to readers published yesterday, editor Michael Cooke stated that the beta version, which is aimed at pooling reader and advertiser responses, will be online until early spring when it will replace the current digital version of the paper.
The decision to develop a new design was motivated initially by a need to improve the back-end tech that runs the site, according to Erika Tustin, digital news editor at the Toronto Star. The publisher, she says, was looking to improve the overall experience by improving load times. The visual redesign was focused on making the Star readable across devices.
"People are starting to read more news on their phones, so we have a small-screen first, large-screen last, approach," she says. Given the paper's focus on Star Touch, its tablet edition, which recently achieved over 200,000 downloads, the idea of optimizing for the small screen was a natural evolution.
Journalists, advertisers and readers were the three stakeholders taken into consideration when the publisher sat down to figure out how best to design the new page.
"The creative design was entirely based on a storytelling vision and the flexibility that we want in a digital template in order to move more interactive content, the way we want to approach and deliver news, and on trying to find appropriate places for advertising."
While no editorial changes are expected, the publisher has a mobile-first strategy, says Tustin, which will likely inform how writers develop their stories. In addition, the publisher hopes to roll out more native spaces through the beta part of the launch.