Volvo first to wrap new Toronto streetcar
With 18 new vehicles in operation in the city, Pattison has expanded its format offerings to buyers.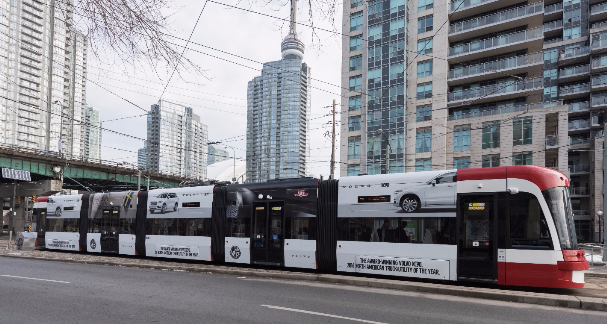 There aren't as many Bombardier-built street cars on the Toronto tracks by now as the city's transit commission would have liked. However, a wrap on one of them signals the availability of the Flexity streetcar for advertising.
The first wrap of its kind on the new vehicles has launched in partnership with the transit body and Pattison Outdoor Advertising and sees Volvo, the Swedish automotive manufacturer, advertising its new XC90 car.
As the exclusive TTC partner, Pattison Outdoor is now adding the streetcar as a new advertising format for brands and buyers.
The streetcar, which is inspired by a European design, allows advertisers to spread their creative across 30 metres. Inaugurated on the city's tracks in August last year on the 510 Spadina line, there are now 18 vehicles in operation across the downtown core.