Ford signs on for Canada's 'First View'
The car company used its first-mover status with the social media co to promote its F-150 Raptor on the new ad unit.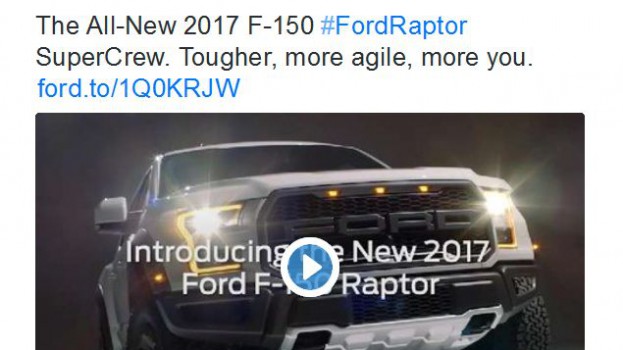 Ford Canada used its global partnership with Twitter to launch a market-first in Canada this week, becoming the inaugural brand in the country to use the social media co's new First View ad unit.
The purchase gave the car co access to the first promoted video ad unit Twitter users saw on Thursday across desktop and mobile for 24-hours. First View was announced globally last month, and in addition to being the Canadian first for the ad unit overall, Ford was also the first automotive company to use the unit worldwide.
The spot ran all day Thursday, receiving over 650 retweets and 1,750 favourites, with viewership peaking from midnight to 1 a.m., 7 a.m. to 8 a.m. and 2 p.m. to 3 p.m., according to results from Twitter Canada.
Ford Canada used the ad unit to promote its new 2017 F-150 Raptor. The 28-second spot on Twitter targeted more of a mass audience than the brand usually goes for when advertising its line of trucks. Ammar Khan, social media manager, Ford Canada, says the typical F-150 target is men in their 40s.
"Ford has been an excellent partner with us around beta testing," says Brooke Robinson, director of social, Mindshare Canada, which handled media on the campaign in partnership with Blue Hive. "The beauty of this campaign is that it's all about awareness. There is some great imagery in the ad and there isn't the threat of a competitor jumping in on the space."
Khan notes that the release strategy for the F-150 Raptor has been digital-heavy, with the truck getting its first Canadian reveal at the Canadian International Auto Show through a set of Facebook and YouTube walk-around videos.
"The truck audience is by far the most engaged on social channels," he says. "They're extremely passionate. Engagement rates are always higher for anything related to trucks."
Seema Shah, VP and media director, Blue Hive, says that while Ford Canada still uses traditional channels for mass reach, it is shifting spend online with an emphasis on mobile in order to reach consumers who are researching vehicles.
"We know that mobile especially is one of the first touch points for car research," she says. "That's why using opportunities like Twitter First View is really exciting for us."