Unravelling Canadian consumer behaviour
TouchPoints, the first substantial study of the Canadian multimedia user is out, giving buyers access to more precise planning data.
Are you digging for a nugget of gold, a rare valuable that will give you that extra little bit of wisdom about the consumers you're trying to reach? The most in-depth psychographic of a Canadian consumer has landed on these shores.
Helmed by Joanne Van der Burgt, president MediaCT at Ipsos,  the detailed consumer study, TouchPoints, has finally launched in Canada, with two kick-off events in Toronto and Montreal, giving Canadian buyers access to a single source for multimedia usage information for the first time, and giving buyers the insight they need to maximize reach on their campaigns. Ipsos, which runs the study, has worked with market research technology company Reality Mine to capture passive behavioural data.
With its launch, TouchPoints data for Canada includes 40,105 e-diary days of information, 241,199 behavioural data days and just over 15 million responses overall.
The survey, which owes its Canadian avatar to its U.K. sibling, has been in the works for some time now with Van der Burgt shuttling from agency to media company to build support (and financial backing) for the Canadian initiative. In December, Ipsos announced the addition of Bell Media to its roster of clients, bringing its tally of media company subscribers to 31 and 18 media agencies.
At the time, Mark Finney VP, strategic sales, Bell Media stated,"TouchPoints Canada will bring us one step closer to really understanding a consumer's journey from brand awareness to consumption."
The final result is a survey of 4,200 Canadians located across the country. The info captured over the period of the initial study includes not just media consumption of traditional news sources (magazines, newspapers, television and radio) but also how consumers interact with indoor and outdoor advertising.
"There have been other syndicated studies that ask people what they did yesterday and what they did this week in terms of consumption of media," explains Rob Young, director of analytics at PHD Canada, "but that all required people to recall what they did a week ago. It was not a precise measure."
The precision that Young speaks of alludes to the nature of survey capture with respondents filling out their multimedia usage every 30 minutes of their day.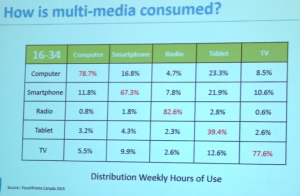 How do these insights help marketers? At the TouchPoints presentation to its clients on Wednesday night, Van der Burgt used the example of Danish brand Lurpak, which asked media agency Carat: How can our budget best be used to sustain Lurpak's "Good Proper Food" campaign? Carat was able to respond with its advice: Only advertise when the nation's mood is low and the message will be most inspiring. With TouchPoints data, buyers are able to not just locate those moments but also find which device a consumer is likely to be on during a certain time of day.
See, for instance, the image on the right to see how 16-to-34 year olds' multimedia consumption on a weekly basis.
"With that information you are able to determine how lines of media usage intersect and that is something we never had before. It means we can have a better understanding of how television and radio reach combine. What kind of combination reach you get with two or three or four different kinds of media."
The data answers all kinds of specific questions as well. For instance: How do Canadians feel through the day? Who are they with when they are consuming data? What media do Canadians consume before making a purchase? What are they doing most when consuming media? And in what format are news brands consumed?
Until now media agencies have been using single medium data and using TouchPoints data from the U.K. market (where it launched in 2006) to find the best way to plan a multimedia campaign. They will now be able to input Canadian data into their media planning tools and achieve greater accuracy.