Spotted! CIBC's talking fuselage
Aiming to expand awareness of its travel-focused credit card, the bank launched an experimental activation at Pearson Airport this past weekend.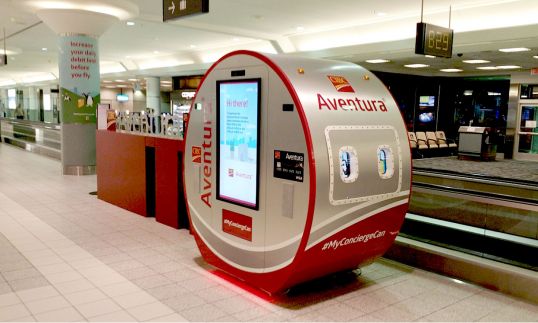 March break travellers heading out from Toronto's Pearson International Airport probably noticed a bright red fuselage in an unlikely place – sitting in the middle of the airport's Terminal 3 departure lounge.
The contraption is an invitation by CIBC to get the attention of its current CIBC Aventura card holders and to invite new ones to its domain. The activation is titled the CIBC Aventura Virtual Concierge. Once travellers exiting the city over this past weekend swiped their Aventura card along the machine, an automated voice asked them some questions, like: Where are you going? Is your destination sunny or cold? Based on those answers the machine dispensed a relevant gift.
The activation was aimed at reaching a different kind of audience For CIBC: young families off on vacation. The idea behind the experimental activation was to do three core things: "innovation, personalization, and rewards for our Aventura card holders," says Monique Giroux, VP, sponsorships and strategic partnerships at CIBC.
CIBC current has a campaign in market titled, "Get Red to Take Off." The CIBC Aventura Virtual Concierge supplements that campaign. The fuselage activation "builds on our marketing messages and what we really want – to increase awareness of Aventura and the benefits of the card particularly around the card's travel concierge service," explains Giroux. 
The concierge was conceived and developed by Toronto-based Fuse Marketing Group, under the leadership of the company's creative director, Patrick Weir and its creative technologist Marc Pelland. Manufactured by design company, Paus+Grün, the fuselage was placed in the departure wing of terminal three at Pearson Airport.
That was part of the mission at CIBC, which was keen on rewarding its clients, whilst also reminding them of its call-centre service specific to Aventura clients, says Giroux.
In addition to the virtual interaction machine, direct sellers were also at the airport to answer questions or direct those who were not customers but were interested in applying for the travel rewards-focused card.
Giroux said the machine itself could be reprogrammed for other similar activations, with the fuselage being repurposed for a future activation.
"The intent is that CIBC can repurpose it for multiple events, " explains Stephen Brown, president of Fuse Marketing. "We can modify the shell and change the interface to make it appropriate."
The cost, he says, of developing another interaction using the base machine would be one-fourth the amount of building it for the first time.