Spotted! Daredevil starts a fight
A billboard promoting the new season of the Netflix show will evolve as viewers talk about the characters on social media.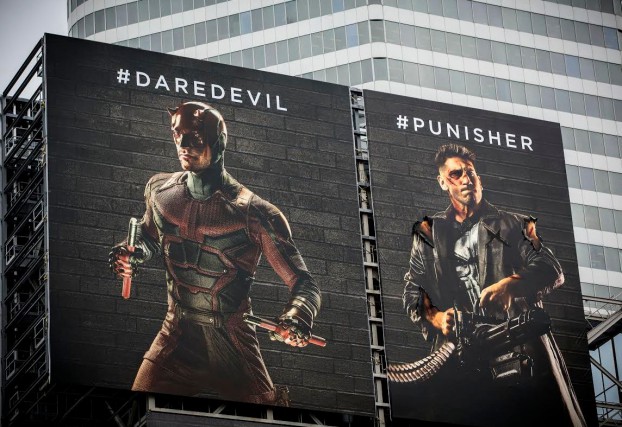 Fans of Netflix's Daredevil are doing some real damage to billboards showcasing new characters the Punisher and Elektra ahead of the show's second season launch this Friday.
The new season is being promoted with a set of billboards at Toronto's Yonge-Dundas Square that are updated every 48 hours with cuts, bruises, bullet holes and other 3D damage done to the characters that aren't getting as much social media attention.
Fans walking past the billboards are urged to "join the fight" by using #Daredevil, #Punisher and #Elektra in social media posts.
Media on the campaign is from MEC, creative from DDB Canada, OOH production from Clear Channel Canada and character artwork by Ignition Creative. 
Jon Mandell, copywriter at DDB Canada, says the idea for the boards came from the insight that fans of the show watch it in part for the intense fight scenes.
The Netflix original show follows Daredevil, a blind lawyer that has all of his other senses heightened to a superhuman level. 

"Our billboards also give fans a first look at the Punisher and Elektra's costumes, which has generated a lot of excitement," he says.
In order to make the damage done to the characters look as realistic as possible, John Larigakis, art director at DDB Canada, says the team used non-digital billboards, instead adding 3D props to the boards when they're updated every other day.
"Using an out of home installation gave us the scale that we were looking for to make the fight feel as big and impressive as the fights on the show," says Larigakis.
Netflix will also be promoting the second season of Daredevil at this weekend's Toronto Comic-Con, which is running from March 18 to 20 at the Metro Toronto Convention Centre.