Google aims to address needs of modern marketers
The company has released Google Analytics Suite 360, a set of tools designed to help measure today's multi-screen consumer.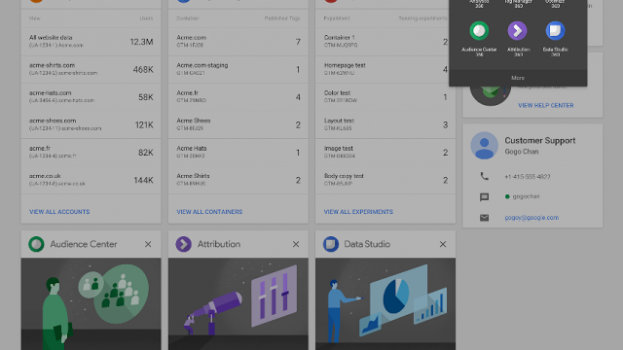 Google has released a new set of tools that aim to address the needs of modern marketers. Called Google Analytics Suite 360, the six products (four of which are new) were developed to address marketers measuring multi-screen consumers.
Built to address changing consumer habits, the new suite of options from Google includes four new tools. Those begin with Google Audience Center 360, a DMP that's currently in beta, Google Optimize 360, a website testing and personalization product that's also in beta, Google Data Studio 360, a data analysis and visualization product that's in beta and Google Tag Manager 360.
Google Analytics Suite 360 also includes two rebranded products; Google Analytics 360, the measurement centrepiece of the suite, which was formerly known as GA Premium and Google Attribution 360, formerly known as Adometry, which has been rebuilt to help marketers allocate budgets across channels. 
Casey Carey, director of marketing, Google Analytics Canada, says the new tools respond to a reduction in time that people spend on individual websites.

"Five to 10 years ago, marketers learned their craft in the era of desktop," he says. "What that meant was we used email or search to drive someone to a website. They would spend some time on the website and they would ultimately make a purchase. But it was all a pretty captive experience. Fast-forward to today and what we see is that mobile has changed everything. The length of time people are spending on websites is going down, but the number of visits is increasing. What we have is no longer that captive visitor."
Not only are consumers online in shorter bursts or "micro moments" as Google calls them, but they are using the internet across multiple devices. According to a study done by Google and Forrester of marketers, 84% of those asked don't believe their data sources measuring consumers across different devices are well-integrated.
Marketers also said they find it difficult to relay data they do find, with 57% of respondents agreeing that it's difficult to give stakeholders in different functions access to their own data and insights.
"Because of the changing consumer behaviour across devices and channels, we now have much more data than we have ever had available to us," says Carey. "That's great because it holds a lot of opportunity, but it's a bit of a dichotomy because the amount of data we have is really difficult to use."
All products in the Google Analytics Suite 360 are currently available in Canada.