Transat gives viewers a taste of the old world
The travel co is targeting a wider audience with its latest digital series.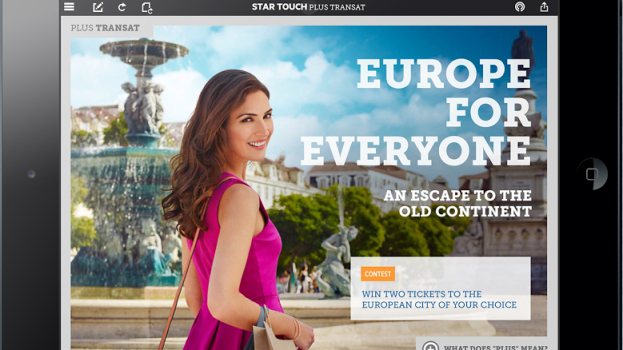 To compel Canadians to think about a visit to the old world, travel company Transat is taking viewers on a visual tour of Europe's most charming corners, while bringing attention to destinations on its route network. 
The company launched "Europe for Everyone" over the weekend, a special sponsored edition of video stories that is being published digitally on La Press+ and the Star Touch.

Through the execution, Transat, which operates a charter airline to southern vacation destination, is also highlighting its Europe packages.
The special edition launched on Sunday, taking viewers into select corners of places like Glasgow, Paris and cities in Croatia, with Canadian bloggers, journalists and expats sharing stories about their special European haunts digitally.
To appeal to a wide demo, the campaign, which features Canadians living in Europe sharing their special haunts, also aims to reach a wider demo through its diversified storytelling: a guided tour of central Europe for example; a cruise along the Riviera or a trip through Europe on a shoestring budget, for example.
Transat has been building marketing through a network digital influencers for over three years now. By working with Canadians living and traveling overseas, the company has hosted a number of shows on its YouTube channel. Last summer it worked with Flare magazine to launch a web series called Style Jaunt, to bring attention to its Portuguese destination with a shopping-cum-travel guide. 

Prior to that it launched Travel Basecamp to target a youth market, and has been launching new episodes regularly to build on its growing viewer base. Travel Basecamp won the 2014 Communicator Awards in 2014 for branded content and online video, in the Film and Video in Travel and Tourism category.