Canadians tune in for the Junos
The Canadian music awards show registered a significant spike in viewership in the millennial demo over last year's numbers.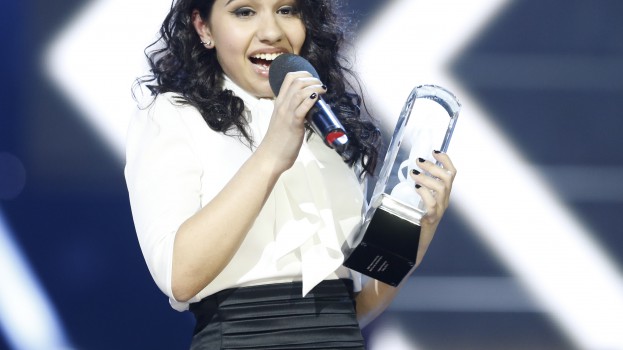 Large numbers of Canadians tuned in to watch the 2016 Juno Awards this week, with audiences peaking when Bryan Adams took the mike to sing "Go Down Rockin."
Overall some 5.2 million viewers tuned in to watch some part of the two-hour show broadcast live from the Scotiabank Saddledome in Calgary, according to preliminary overnight numbers from Numeris shared by Bell Media. And with an average of 1.4 million viewers watching the Juno Awards on CTV, the channel saw an overall increase of 2% over last year's broadcast.
The most significant year-over-year spike in viewership came from the millennial demo, with the broadcaster witnessing a 42% increase among 18 -to-34 year olds from 2015 to 2016.
The 2016 Juno Awards were hosted by musician Jann Arden and Jon Montgomery, the host of CTV's The Amazing Race Canada. Performers that took the stage included Alessia Cara (pictured), Shawn Mendes, and The Weeknd.
The event also resulted in strong showing on social media. There were 1.1 million mentions related to the Junos on Twitter, 90% more than last year, with #Junos and #Junos2016 trending on the platform. The two most tweeted parts of the broadcast included Alessia Cara's opening performance and Shawn Mendes' rendition of the song "Stitches."
The awards were broadcast in 4K, a technology in which Bell Media has been making significant investments.
A recording of the broadcast can be accessed on demand at CTV.ca and on CTV Go. It is also being broadcast again on Much and ET between today and Sunday, April 23.