Canada wins big at the Internationalist Awards
Omnicom agencies bagged nine of 11 awards at the show, which honours the innovative use of media in campaigns.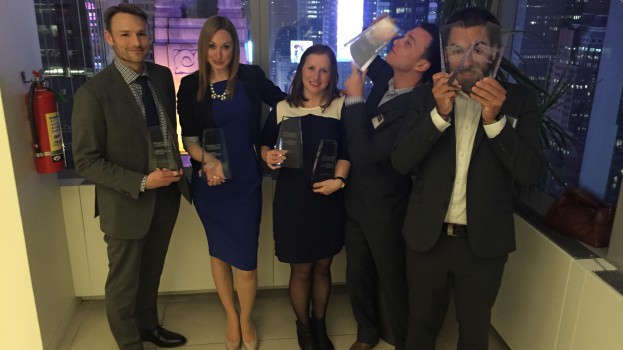 Canadian media agencies, in particular those under the Omnicom Group,  returned home last night with 10 trapezoid-shaped glass trophies, a recognition of their innovative use of media in campaigns.
The awards were handed out at the eighth annual Internationalist Awards for Innovation in Media in New York last night, which saw Touché!, OMD Canada, PHD Canada, MediaCom and Starcom MediaVest coming home with wins.
Four hundred cases were submitted from 32 markets. The awards committee chose 59 winners in four categories: grand prix, gold, silver and bronze. Canadian agencies won four golds, three silvers and four bronze awards.
The two grand prix awards went to Australian agency Atomic 212 for its Double Robotics campaign "Lucy the Robot" and PHD India for its "Active Wheel" campaign for Hindustan Lever.
Omnicom's Touché! bagged two gold awards for its Canadian Tire ("#Shovelitforward") and Sport Chek  ("#MyNorth") campaigns, while bringing home a silver for its campaigns for Desjardin General Insurance ("Ajusto") and a bronze for its work for Mark's ("The Colder it Gets").
PHD Canada won a gold for its University of Brunswick campaign, "Discover UNB" and a silver for its campaign for Converse ("CTII Launch").
OMD picked up a gold for its "Ketchup Hold Out" campaign for Doritos, a silver for its Visa campaign, "The Infinite List," and a bronze for its work on the Youth Milk Snack Time campaign for "Milk West."
MediaCom won the bronze for its Starbuck's campaign "Starbucks Sparkle Shop," while Starcom MediaVest Toronto also received a bronze for its campaign for Mondelez, "Ritz to Go."
The Internationalist Awards for Innovation in Media are decided by an global committee of judges who mark each entry for insights, strategy, results and their use of innovative media tactics. The competition is open worldwide, and entries are judged against each other as examples of global best practices.
Entries are awarded for demonstrating cross-cultural understanding of marketing issues, breakthrough communications thinking, tactical elements in solving marketing problems using innovative media strategies and providing solutions that can be applied globally.
Last year Canadian agencies won four gold awards and six silver awards.
Image: Scott Henderson (PHD), Marissa Robinson (PHD), Michele Duchesneau (Touche!) Sam Rowe (PHD) and Charles-Antoine Gelineau (Touche!) with their awards.