Disney asks Canadians to find their inner Mowgli
The distributor's experiential activation promoting The Jungle Book is live in Canada's three largest urban centres.
Rudyard Kipling's collection of short stories written during the last half-century of British rule in the Indian subcontinent, continues to enthrall audiences throughout the world. The Jungle Book has been adapted numerous times into an assortment of film and digital versions, each appealing to viewers' fascination with a little boy raised in the thick of the jungle by a family of wolves.
Now with Disney's latest effort, a film directed by Jon Favreau and starring (the voices of ) Ben Kingsley, Bill Murray and Idris Elba, the producer and distributor is promoting its upcoming release in Canada with an experiential activation that lets fans jump into the forest with Mowgli.
Ahead of the film's April 15th release, commuters and mall-goers in the cities of Toronto, Vancouver and Montreal will come across a large interactive standee surrounded by green thickets.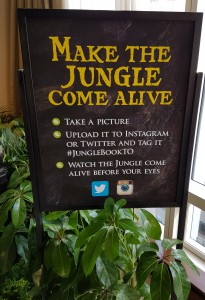 As the film's characters appear on the screen, passersby will have an opportunity to jump into the foliage and snap a picture of themselves. Momentarily transported into the 19th century wild where Shere Khan once roamed, folks can then post it to their social accounts on Twitter or Instagram using the hashtags #JungleBookTO, #LelivredelajungleMTL or #JungleBookVAN. Once tweeted, the display come alive, with flowers blooming and plants mushrooming around the tweeter.
The activation is aimed at general audiences, said Greg Mason, VP, marketing at Walt Disney Studios Canada. "This is a four-quadrant film geared toward moviegoers 8-plus so we are really appealing to movie fans of all ages."
The activation was developed in partnership with Walt Disney Studios Canada and Toronto-based marketing co, Simon Pure. It will be supported by a social media buy on Twitter, Facebook and Instagram.  
In Toronto the company hopes to grab the attention of commuters walking by the York Concourse at Union Station between tomorrow and Friday. The display is already live in Montreal  and Vancouver at the Centre Eaton in the former and at the Grand Court in the Metropolis at Metrotown in Vancouver until April 16.