Spotted! Microsoft's frozen moment
Xbox promotes its newest game with an experience that's paused in time.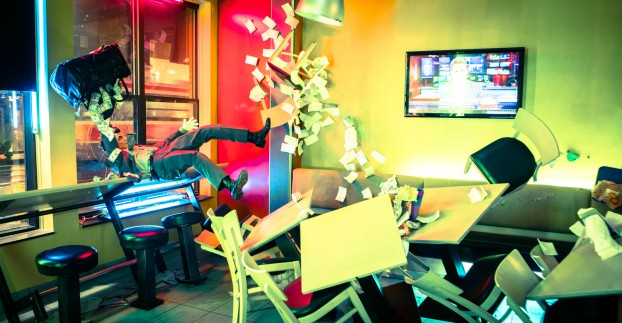 Passersby at the corner of Queen and Spadina in downtown Toronto last week may have been surprised to see that the recently-closed Hero Burger location had been turned into something much more intriguing.
The "Quantum Burger" restaurant, where a man and his bag full of cash were poised mid-air was actually a marketing activation for Microsoft's newest third-person shooter game, Quantum Break (which became available for Xbox One and Windows 10 last week).
When entering the experience – a robbery scene paused in time – consumers could find clues and solve puzzles hidden within the space to earn prizes and demo the game, which features "time fractures," the ultimate inspiration for the frozen-moment execution. The idea was to create an immersive experience for fans that also had a rich, cinematic narrative, says Christina Verdurmen, senior marketing communications manager for Xbox at Microsoft.
Microsoft did tease the experience online through its social channels, although it also relied on passersby in the high-traffic neighbourhood and organic pick up on social through the #ExploretheBreak hashtag to promote the execution, which ran from March 25 to April 9.
To make the experience more national and target its traditional gamers and blockbuster entertainment lovers outside of just Toronto, Microsoft created a series of 360-degree YouTube videos where users can solve challenges to find a pin that they can then use to enter an online contest for a chance to win an Xbox One console and the new game.
Microsoft worked with Mosaic and Wunderman to create the activation, with PR support from Veritas Communications.
Correction: This article originally incorrectly stated that Quantum Break is a first-person shooter game, when it is in fact a third-person shooter game. The activation was also open until April 9, not April 7.