Hershey Canada aligns with the Cup
To promote its Reese peanut-butter cup, the chocolate manufacturer is featuring some of hockey's big stars in a multiplatform campaign.

When Canadians think of a Cup, does an image of a gleaming silver-and-nickel-alloy cup come to mind or a peanut butter-infused chocolate cup?

The confectioner is leveraging one of Canada's most-loved tournaments to promote its Reese Peanut Butter Cup through an integrated campaign titled "For the Love of the Cup."
Hershey Canada's promotion features influencer Phil Pritchard, the official keeper of the cup, in an online video treasuring not just the Stanley Cup but also the chocolatier's cup.  The campaign is part of a long-standing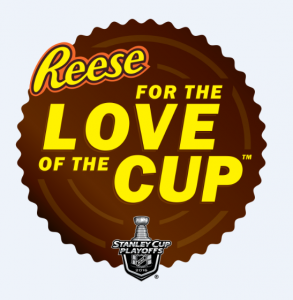 partnership with the NHL, with Reese being highlighted as the key brand for this year. As part of the campaign, Pritchard will appear in a special branded video spot that can be seen on Reese Canada's YouTube channel. He will also discuss #CupLove moments over the course of the tournament right through to the 2016 Stanley Cup Final.
The integration also includes a branded-content sponsorship with Sportsnet that features nine NHL players sharing their best memories associated with the Stanley Cup. Those moments will be aired on TV during game intermissions during the first and second round of the Playoffs and will be seen live on the Sportsnet website.
The campaign's strategy, creative positioning and activation planning  and execution was led by GMR Marketing, with media from UM, social from Anomaly and creative from Havas.
Sportsnet's website will also host a  "For the Love of the Cup" contest, a digital game that will see one winner emerge to see the 2016 Stanley Cup Finals. 
And to reach those who are combing through the candy aisles the company has distributed 250 Reese Cups with the trophy printed on their wrapping, with prizes hidden inside.