A one-year picture of Canadian readership
The annual report from Vividata shows Canadians are engaging with newspapers and magazines, while increasingly consuming them on mobile devices.
The first year cycle of research and reporting at Canada's new print and digital measurement body is up, and with it agencies and advertisers now have a more complete picture of reach across legacy publications.
Vividata, which was created as a single-source audience measurement body out of Nadbank and PMB, has emerged with numbers from its one-year long study of 38,000 consumers across Canada, measured between January and December 2015.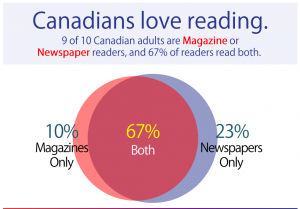 According to the results, newspapers and magazines continue to be consumed by nine out of 10 adults every week but the report shows that the medium of consumption is rapidly shifting, with 59% getting their news fix through a digital device. Even boomers are making the shift to digital, with 29% reading magazines and newspapers on a digital device.
Specifically the device of choice is a mobile, with the results showing that 70% of digital readers are consuming on a mobile device.
The release of the year-long results are of particular importance to newspaper and magazine publishers, who have been keen to provide potential advertisers with evidence of the growth of their digital reach.
"Now [advertisers and buyers] have the full story," said Philip Crawley, publisher of the Globe and Mail, who has been a major force behind the creation of Vividata. "There is a lot of data and demographic analysis and you can slice and dice it pretty well. From my point of view, the Globe was wanting to demonstrate the size of our digital audience, and just how much of a significant contribution it was making to the Globe's footprint in the market."
Indeed the quarterly numbers for the Globe show that its digital footprint is much larger than its print, with an average issue audience of 2.37 million on digital, compared with 1.2 million on print.
Armed with this and other insights, Crawley said he can now approach advertisers who have been reluctant to advertise on the Globe's properties or the ones it represents through the Globe Alliance.
Overall, the annual report shows that newspapers and magazines are posting healthy digital numbers.
Newspapers are still being consumed by millennials in the 18-to-34 demo, with over 50% reading a daily paper every day of the work week. Of those, 38% use a digital device, 25% read print and 36% consume on both mediums. Millennials are more attracted to magazines, with 60% saying they read them. While 50% read magazines online and in print, 37% are print-only readers and 16% consume magazines on digital platforms.
With eight out of 10 Canadians reading newspapers on a daily basis, 54% consume it on a digital device. But weekend behaviour tends to shift towards paper consumption, a reality La Presse is plugged into having maintained a Saturday print edition while ceasing publication of its weekday print publication.While 35% of readers read exclusively on digital during the week, that number drops to 20% over the weekend.
Almost half of magazine readers, meanwhile, are reading digital versions of their publications of choice.
The Vividata study is conducted through a 52-week survey, the results of which are revealed every quarter.
 Image courtesy of Shutterstock