Getting caught up with the speed of change
From binge-worthy branded content to a plea to end the online mobile ad insanity, some key takeaways from yesterday's CMDC conference.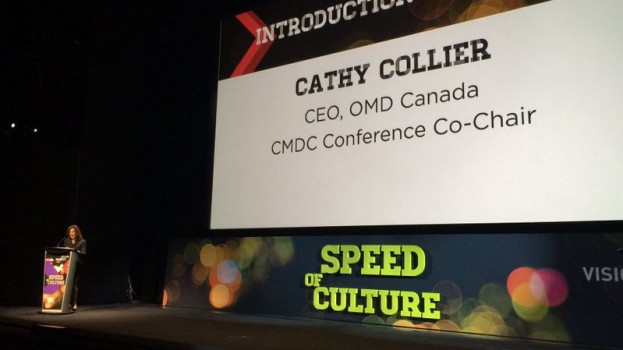 By: Sonya Fatah and Val Maloney
How do we keep up with the myriad of changes taking place across industries, across Canada and across the globe? The CMDC conference this year tackled the challenge of pace, with the theme, "Speed of Culture." Here's MiC's list of highlights:
Watch how you talk about TV
Lindsey Clay, CEO of Thinkbox U.K., flew across the pond to warn the industry against what she calls "numberwang," the practice of using large numbers out of context. She said large digital companies have made those kinds of reports commonplace, and that's lead to a climate where TV is seen as a platform that's committed a crime and needs to be defended. She also said to beware of studies that rely on people reporting on their own claimed behaviour, because people are often not reliable when citing what they actually do.
She says large scale, data-based studies (which she said usually point to the durability of TV) are what matters. Clay pointed to 2015 comScore data from the U.K. that showed 6.16% of all individuals watched live TV, with that percentage dropping only to 43.5% for those aged 16 to 24.
Stop the online screaming
Josh Jacobs, president of chat app company Kik Services, made no bones about his distate for mobile advertising. Likening banner ads to sending 10,000 people screaming through a city about your brand, he said sure you'll get brand awareness, but brand favourability is likely to take a downturn. "The best that people feel about mobile ads is that they're a tolerated nuisance," he said.
Jacobs, who joined Kik from his previous role as president of platforms and partnerships at Omnicom Media Group U.S., says chat provides brands with an opportunity to "re-imagine your brand as someone consumers want to be friends with."
In addition to promoting the platform, Jacobs cautioned that chat apps are a personal space for consumers. He said the brands that succeed on the platform are ones that provide value to consumers. He cited Dove, which created curly-haired emojis to promote an anti-frizz shampoo and saw a jump in purchase intent of 278% as one such winning case.
Get involved with snackable, binge-worthy branded content
Christina Jennings, chairman and CEO of Toronto-based prodco, Shaftsbury, shared her insights on how marketers can best incorporate their brands around web series. She had a list of 10 takeaways but here are a few. The sweet spot for a snackable and bingeable series is a five-to-seven minute episode. Social teams need to be deployed to get conversations going around the series and each series should have a long life, somewhere in the ballpark of 52 weeks. Moreover, you don't need logos in your face – millennial audiences don't like overt branding. Jennings says a brand's identity is revealed over time, once the series has developed traction. For reference she showed a video from the RBC-sponsored V Morgan is Dead.
See opportunity in challenging times
A theme that ran throughout the day was choosing to see the positive in challenging circumstances. Terry Stuart, CIO at Deloitte Canada wrapped up the presentation for the day by echoing those comments, delivering his presentation on the evolving culture of innovation in businesses and urging Canadian businesses to seize the opportunity presented by disruption. Based on Deloitte's research, only 13% of Canadian businesses are "highly prepared" to tackle disruption from advanced technology. Conversely 35% of Canadian businesses have no preparedness for this new culture. Take a page out of new business's book, Stuart urged, pointing to numerous examples (Slack, Occulus Rift, Airbnb, Uber, Shopify and Spotify) of new businesses that have achieved a $1 billion valuation with speed.