Maripier Morin makes it happen for Motrin campaign
The painkiller brand launches its first integrated campaign in Canada featuring the Hockey Wives star through a Kin-Corus partnership.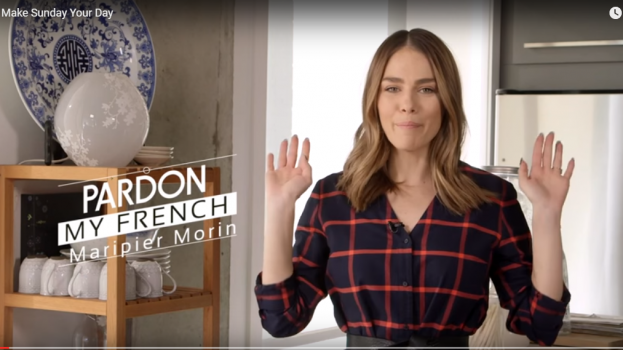 How do the hockey wives handle the pressures of every day life? If Maripier Morin, wife of Utica Comet's Brandon Prust is asked, she's likely to refer to the hashtag for her latest Motrin campaign: women just #MakeItHappen.
Fans of the W Network show Hockey Wives will see Morin as the new face of Motrin's integrated campaign. Morin, a television host, star of the show and also a social media celebrity is featured in a series of online videos filled with useful tips to manage chaotic and fully scheduled lifestyles.
The idea for the campaign came during discussions for a new content strategy with J3/UM to extend the life of its #MakeItHappen philosophy, Natasha Leduc, brand manager for Motrin at Johnson & Johnson told MiC. Kin Community and Corus Entertainment  suggested an integrated campaign. This made sense for the Motrin team, who were looking to develop a brand awareness campaign and wanted to reach women in the 35-to-50 age demo.
The integration includes four videos in English and French, as Morin is popular in both markets. Those videos are hosted on her YouTube channel, Pardon My French. The social media influencer joined Kin Community Canada late last year to launch her own YouTube channel. In the videos Morin shares tips about her personal organization skills, as well as her focus on remaining positive.  In addition to the videos, the campaign has a TV sponsorship component through Hockey Wives on W Network and Series+.

Creative for the campaign was developed by Kin Community and Bristow Global Media, with media by J3/UM, social by the Tite Group and PR by Edelman.
The TV-MCN integration was a huge sell for Motrin, explained Leduc. "To be able to bring the program to life on such a mass lever like TV, while still being able to customize different content for digital and in-store, really allows us to reach our target in a very effective way."
Leduc said her company has been working with bloggers and social media influencers since it launched its #MakeItHappen campaign last year. But by signing Motrin on for this part of its campaign, the brand has expanded the scope of its strategy.
"…[T]his is the first time we've worked with an influencer of this magnitude, amplified through multiple channels with true 360 degree support along the consumer path to purchase," she explained. "We wanted to find a new and different way to bring #MakeitHappen to life in the digital space, to connect with the MotrinUnstoppable Woman in a more personal way."