Kraft Heinz returns to tightened media model with TSN
The brand's marketing director Joanna Milroy on how Kraft Heinz Project Play fared in its first year, and how it has changed for its second edition.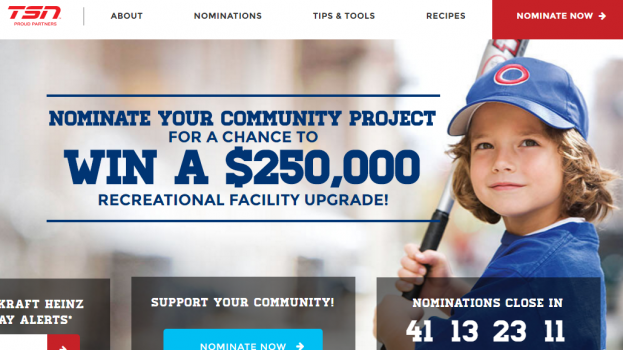 Last spring Kraft Heinz changed up the media partnership it had been running with TSN and RDS, evolving the Kraft Celebration Tour into Kraft Heinz Project Play.
The branded content program invites Canadians to nominate a new or existing local recreation project like a rowing shed or tennis court at KraftHeinzProjectPlay.com for a chance to win infrastructure upgrades. The grand prize winner in the program will receive $250,000 towards an upgrade, and three second-place winners each win $20,000.
TSN's James Duthie is the face of the 2016 program, interviewing other TSN personalities like Jennifer Hedger, Milt Stegall, Jason DeVos and Tessa Bonhomme about their passion for sport and good places to play. Those interviews will be pushed out as 30 and 60-second spots on TV, as well as clips online. Media for the partnership is handled by Starcom, with creative from Leo Burnett and PR from Weber Shandwick.
Joanna Milroy, marketing director, Kraft Heinz, said last year's inaugural Kraft Heinz Project Play (then called Kraft Project Play, because Kraft has since merged with Heinz), was a tightened version of the previous Kraft Celebration Tour. Rather than having the program run through the end of August as it had been, the focus was switched to the crucial May and June period.
"From a business perspective you need to be winning in-store early on," she said. "It's a time when consumers are thinking of picking up products for summer entertaining. And sports leagues are seeing the wear and tear that winter might have taken."
Last year's program saw a 20% increase in TV impressions, an increase of 30% in nominations and a 2% jump in unaided awareness about the program, said Milroy.
She said that the focus on connecting with consumers on a deeper level is key more than ever now, which is why Kraft Heinz is now in its eighth year partnering with TSN. Kraft Heinz also continues to run the Hockeyville with Rogers Media, a similar program focused on communities voting for arena upgrades in their community with surrounding TV and digital content. 

"Now more than ever brands need to stand for more functional attributes," she said. "Brands need more of a purpose beyond selling a product. When the communities have a cause to rally around together they are able to rally strong."
The 2016 version of Kraft Project Play is following the same spring timeline as the 2015 program, and is focused on promoting brands including Heinz Ketchup, Nabob, Philadelphia Cream Cheese, Classico Sauce and Kraft Peanut Butter. Those products will be integrated into all media for the program, which includes TV and online spots, as well as recipes and in-store promotions across Canada.